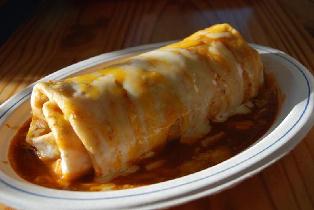 We've got great news for our World Golf Village neighbors: Colorado Burrito Company is now open at its new location in the West Town Place shopping plaza. With expanded business hours, additional menu items, outdoor dining, wine margaritas, and domestic/imported beer, Colorado Burrito Company is better than ever!
From their massive entrees like the "BIG Burrito" loaded with Mexicali rice, shredded cheese, sour cream and your choice of beans and meat, to their giant Taco Salad, Colorado Burrito Company is the perfect place to stop in for a quick lunch. They also offer great appetizers like Jalapeno Poppers, South West Egg Rolls, or their famous Hot or Mild Pork Green Chile.  
Not only do they offer delicious food, they have specials going on every day of the week. Three tacos for the price of two, free Churros (Mexican Doughnuts) with purchase of two entrees, and free beverages with purchase of an entree are just a few of the daily specials.
They also have great combination meals if you want to try a variety of items. My favorite combo is the #2; it's a small burrito and your choice of a soft or crispy taco. Make sure to add a side of the Hot Pork Green Chile.
Colorado Burrito Company's Happy Hour runs from 4- 7 pm everyday and they offer $0.50 wings, $1.00 Chips and Salsa, and half price drinks along with a seasonal Specialty Burrito.
On top of the friendly service, the casual atmosphere and fresh food offered seven days a week, Colorado Burrito Company is a great place to bring your family and friends for a delicious meal.  For more information about Colorado Burrito Company please visit their Facebook page or call (904) 940.2885.