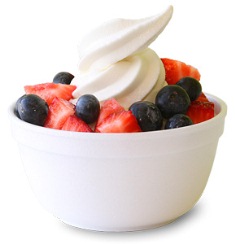 Move over cupcakes.  Frozen yogurt is the new favorite treat.  You can serve yourself, mix and match flavors, and get exactly the amount you want.  Then create your own masterpiece by choosing from a variety of toppings.  Frozen yogurt is also a slightly healthier dessert choice since it's non-fat, but that's beside the point because it tastes creamy, sweet and delicious!  So I was thrilled when a new Yogurt shop opened in Palencia.  A few days ago my friend and I went to visit Yogurt Motion located in the Palencia Commons. We met the owner, Scott Sance, who was glad to talk to us about the new, self-serve frozen yogurt shop.
Scott said he was retired and "wanted to bring yogurt to Palencia". Scott and his wife Lorena are residents of Palencia. Scott's favorite flavor is Peanut Butter. The top selling flavor at Yogurt Motion is a tie between Vanilla and Cake Batter.
Both my friend and I had Chocolate yogurt with a few toppings and it was delicious.  Some of the toppings at the topping bar are Oreos, granola, chocolate chips etc. Scott informed us that their yogurt uses fructose, not sugar as a sweetener. Personally, I think it's a perfect after-school treat. To-go containers are available so you can mix up your favorite frozen yogurt flavors for home.
The shop itself is cute and decorated with polka-dots.  It can also accommodate birthday parties with up to 30 people.