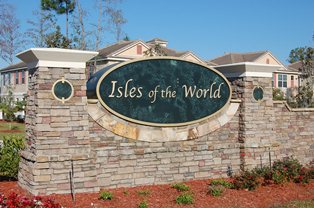 Located within the Neighborhoods of World Golf Village, Isles of the World is an intimate neighborhood of high-quality, spacious townhomes. Davidson Realty agent Loreal Greathouse and Homes by Deltona's Sales Associate Mary Gaskill gave us a tour of these first-class units designed by the award-winning architectural firm The Evans Group.
Isles of the World is an intimate neighborhood of 150 high-quality homes. As Mary explains in the video, there are seven unique floor plans to choose from, each with an inviting courtyard entryway which also allows flexible use for a splasher pool or Italian garden. A two-car garage and garden suite come standard with these beautiful homes. And, residents enjoy views over the serene 40-acre neighborhood lake!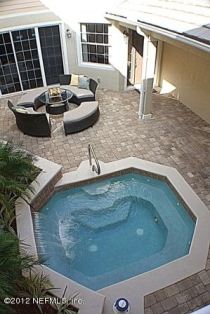 Mary and Loreal start out by showcasing the Cog Hill model which has three bedrooms and three-and-a-half baths. Residents have the option of a gas fireplace and they can leave their 10-foot doors open to the private courtyard area to really enjoy the beautiful Northeast Florida weather!
Then, we take a peak inside the Garden Suite attached to the Cog Hill model. The Garden Suites are separate suites located over the interior garages and would be perfect for an office, studio, or mother-in-law suite. They come standard with a kitchenette, refrigerator, full bathroom and walk-in closet. Loreal adds they would even be perfect for friends visiting or an older teenager/college student.
Next, we tour the Barton Creek model, which is a 2,500 square foot plan with a romantic courtyard/master bedroom combination on the first floor. It has five bedrooms and three-and-a-half baths with gorgeous views of the neighborhood lake right outside your kitchen window.
Units in the Isles of the World feature concrete block construction on the first floors. The Home Owner Association (HOA) fees include water, sewer, trash collection, lawn care, irrigation and exterior painting. Pricing begins in the low $200,000s up to the mid $300,000s depending on floor plan and location. Residents have access to World Golf Village amenities inside the King & Bear community, which include the Swim & Tennis Center, Fitness Center and more.
For more information on Isles of the World, please give Loreal Greathouse a call at (904) 940-5000 or email her at lgreathouse@davidsonrealtyinc.com.