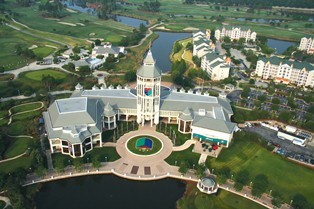 As previously discussed, "St. Johns Harbour" was permitted in 1986 with no specific development concept in mind other than lots of development rights on lots of acres. From 1986 until 1991, the project evolved into a resort oriented community anchored by the proposed PGA TOUR Hall of Fame. The PGA TOUR Hall of Fame was conceived by the then Commissioner of the PGA TOUR – Mr. Deane Beman. In 1990, Deane decided it was time for the TOUR to have its own Hall of Fame. The PGA of America had its Hall of Fame in Pinehurst, NC. With the TOUR's headquarters in Ponte Vedra Beach, FL., Deane decided the TOUR's Hall of Fame facility needed to be located somewhere in the First Coast area (preferably south of Jacksonville, FL). The reasoning was quite simple: 1) The proximity to PGA TOUR headquarters would facilitate project management. 2) Being south of Jacksonville on I-95 would capture all of the I-95/I-10/I-295 tourist traffic destined for South Florida. 3) Locating in the city of Jacksonville would provide an opportunity to solicit governmental financial support due to the project's anticipated impact on local tourism.
The proposed project envisioned a 28,000 square foot Hall of Fame, 350 room resort hotel and an 18-hole golf course. The location selected was just south of the I-295/I-95 intersection in southern Duval County. Deane announced the project with great fanfare and support from the city of Jacksonville. Fortunately for the St. Johns Harbour project, the site selected by the TOUR presented significant environmental challenges. In anticipation of these project permitting issues, we decided to incorporate the PGA TOUR Hall of Fame concept in our approval process. We estimated completion of our approval process to be at least one year prior to any possible approvals being granted to the TOUR at the other site.
In September 1991 we received the bulk of our final approvals, other than the Corps of Engineers and proceeded to present the opportunity for a change in venue to Deane. On the day Deane chose to visit our site, the sun was shining and there was wildlife everywhere. Mother Nature closed the deal for us. Now we had an anchor and a new name, "Saint Johns- Home of the PGA TOUR Hall of Fame".