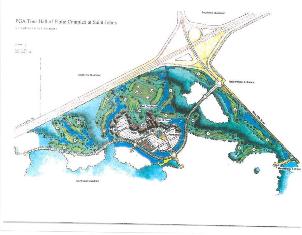 Once Deane Beman made the decision to locate the PGA TOUR Hall of Fame at the Saint Johns project, the specific details of the project components needed to be formalized. The original PGA TOUR Hall of Fame project concept was relatively small in terms of required development acreage with only one 18-hole golf course, a 350 resort room hotel and the 28,000 sq.ft. PGA TOUR Hall of Fame. The permitted Hall of Fame development area in the Saint Johns project was 82.0 acres, substantially more acreage than was required for the PGA Hall of Fame and a 350 room resort hotel. In addition, while the project concept had been decided upon, the source and amount of funding required for initial construction and future operations had not been identified.
In order to identify various sources of capital, Deane held meetings with successful charitable fundraisers. After several meetings it became evident that the PGA TOUR, by itself, would struggle to raise funds to construct and support such a facility due to its rather narrow audience. As the fundraisers pointed out, the planned facility needed the acceptance and support of participants in all aspects of golf world-wide. It was agreed that if you included the PGA of America, L.P.G.A. and all of the organizations world-wide (Europe-Asia, etc) that the charitable base would be of sufficient size to support not only the current concept, but an expanded concept for the entire world of golf. Deane acknowledged this was the only way to secure lasting success for the project and felt sharing his idea of a central facility honoring the game of golf would be readily accepted and supported.
The first organization he contacted was the L.P.G.A.. They applauded the idea of a centralized Hall of Fame and with that initial commitment Deane was able to convince all of the golf related organizations world-wide to join the team in developing a special place to honor the game and those individuals who had made it their careers.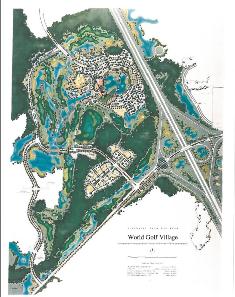 With this influx of participation and support involving over 21 organizations world-wide, we knew that the facilities concept plan needed to be enhanced. The 28,000 sq.ft. PGA TOUR Hall of Fame became the 75,000 sq.ft. World Golf Hall of Fame with IMAX Theater; the 350 room resort hotel evolved into a 400 room resort hotel and a major time-share project. Finally, the golf facilities were expanded to two 18-hole championship courses with a PGA TOUR Golf Academy. This evolution of the project from the PGA TOUR Hall of Fame to the World Golf Hall of Fame took almost two years to come to fruition.
At the end it was Rick Pariani, V.P. of Design and Development for Davidson Development, Inc. who renamed the project "The World Golf Village", a more fitting description of the project evolution.