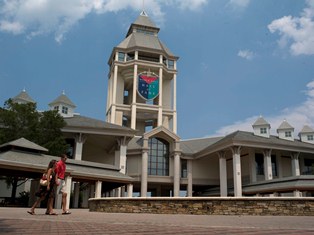 After the name and concept had been determined, all that was left to do was find a hotelier, a timeshare developer, a retail developer, a golf course developer and a group of builders who would buy into the World Golf Hall of Fame concept and of course convince St. Johns County to support a convention center at the hotel!  It was imperative that all partners be willing to trust each other enough to construct their respective facilities simultaneously for a project Grand Opening. One thing was for sure, this was not a project for corporate America or any of the pension fund investors.
Since we had the Hall of Fame and IMAX through the World Golf Foundation, our next effort was directed at locating a hotelier with the reputation, financial wherewithal and the decision making ability to build a 350 room resort hotel. That man turned out to be Mr. John Q. Hammons of John Q. Hammons Industries. Mr. Hammons, known as John Q., was the first "outsider" to commit. Mr. Hammons owned the company and had built it up to be one of the largest hotel companies in the United States. He originally started with Holiday Inns and then added many hotels in management and ownership to his portfolio. My favorite memory of Mr. Hammons was our first meeting on-site. There was nothing there but an I-95 borrow pit and about 500 acres of freshly logged land. Vernon Kelly (PGA TOUR) and I explained the project concept to him and then waited for a response. After a minute of thought Mr. Hammons' reply was "you boys expect me to build a resort hotel out here in the middle of nowhere; a two week mule ride from Jacksonville? Well I'm old enough, crazy enough and wealthy enough to do just that. I will agree to build it if you boys get the County to help build a convention center to go along with the hotel." Well with that shot in the arm and a fresh challenge issued by John Q. we were off and running.
Now that we had a hotel (kind of; subject to a convention center) we focused on golf and the golf academy. The next individual we approached was Jim McGlothlin of The United Company. Like all of the partners, Jim was a self made man. His passion was golf and he shared that passion with his partner Bill Palmer. Jim and Bill formed Scratch Golf Company to own and operate golf clubs in the southeast. Jim was really sold on the project concept to the point that he helped us secure the timeshare developer (Vistana Development,Ltd) and the retail developer (Chidress Klein Properties).
As the project components began to fall in place, we continued to work with St. John's County on the proposed convention center. Based on the completed market studies, the convention center needed to be approximately 80,000 sq.ft. After much deliberation, the County decided to support the financing concept for the convention center and all the components were now in place.
In June of 1996 the legal documents were completed representing the commitments of the WGV Partners both individually and collectively. The actual closing occurred some sixty days later in August, 1996.
Golf is a game that requires an individual to possess endurance, skill and commitment to win. Without a doubt this represents the qualities of each and every one of the WGV Partners.
How long did it take?
Started: October, 1987
Completed Regulatory and Environmental Permitting: December 1991
WGV Partners Closing: August 1996
Total: 9 years
It was now time to build a dream!!