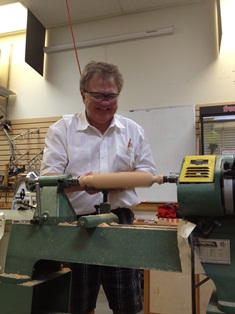 Whether through work, community service, or just being a great neighbor, each of World Golf Village's treasured residents give back to their community in their own ways.  Royal Pines resident Fred Odom is extraordinary because his efforts have benefited the area in each of these ways.
He serves on the Boards of Royal Pines Homeowners Association and Gateway Community Center in Jacksonville, in addition to dedicating time to several professional associations.  We recently caught up with Fred to get to know a little more about him and his background.
Q: From where do you hail and what brought you to St. Augustine? I am originally from Waycross, Georgia, but I have travelled around the world 65 times, so you say I am resident of the world.   I came to St. Augustine because of World Golf Village.
Q:  Tell us a bit about your travels. About 90% was for business.  Also, when my daughter graduated from high school, we went with my first cousin and his daughter to Europe for 30 days, staying and traveling on trains and visiting 16 countries.  Eastern Europe and Russia were my favorite destinations because of the rich and diverse culture and the history they possess.
Q: What is your favorite thing about living in World Golf Village? My home and my Royal Pines neighbors.  My home backs up to the preservation area so I feel like I am living out inside of nature.
Q: Tell us a bit about your family. My son lives in Austin, Texas, where he just graduated from Cordon Bleu Institute.  He is a chef with the Omni Hotel.  My daughter lives in Jacksonville.  I have two cats that moved into World Golf Village in 1999 when I did, and are still here with me.
Q: What is your professional background? I am a retired civil engineer.  I was the managing partner of an engineering consulting firm in Jacksonville for 25 years.  I was asked by then-Mayor John Peyton to serve as the executive director of a new venture never before attempted within the U.S. called the Water and Sewer Expansion Authority.  It was a virtual utility that provided property owners with an opportunity to voluntarily finance water and sewer infrastructure in their existing developed neighborhoods.
Q: You have a lot of professional endeavors under your belt. What do you like to do for fun?  I build custom, one-of-a-kind furniture and then give it away.  I enjoy high-end contemporary, especially "Art Deco", but also "Arts and Crafts" as well as Shaker and Modern styles.  My specialty is anything with very complicated curves and twists of any imaginable shape in all planes.  One thing I like to do is make beds for newlyweds and engrave their likeness in the head board.