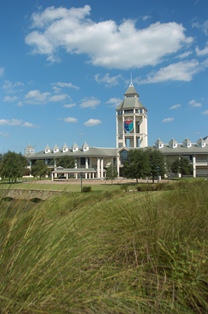 As previously mentioned, the formal closing of the WGV Partners and related start date was in August, 1996. The projected first phase costs were in excess of $350,000,000 and included the following:
Renaissance Hotel – 300 Rooms
Slammer& Squire Golf Course, Clubhouse and Driving Range
WGV Retail- 80,000 sq. ft.
PGA Tour Productions Headquarters
WGV Boulevard
Royal Pines Parkway
Southeast Quadrant Commercial Sites
Associated Residential Development Tracts
It is important to note that much of this construction effort required total cooperation among the WGV Partners and their related contractors in order to streamline the costs and meet the anticipated completion dates. All facilities at the World Golf Village were to be completed in March, 1998. The actual completion date was in late April with the formal Grand Opening Ceremony being May 16, 1998.  This massive construction effort was on budget and only 30 days delayed from the original scheduled completion date.
An excellent indicator of the market acceptance of WGV is in the fact that over $100,000,000 of pre-sales were secured prior to actual construction start.  Sales were primarily for the residential components of the project in addition to several commercial support transactions. The key to these transactions occurring was the fact that all components of the WGV project would be delivered simultaneously.
As to the Grand Opening Ceremony, there was great fanfare and celebration from the golfing world.  Celebrities from every aspect of the game showed up to celebrate the game of golf and the special nature of this facility.  Unfortunately, this invitation only affair set a tone of exclusivity in the local market. This was not intentional.  The impact of this project on the community was, and has been, significant from a financial perspective.  Community acceptance grew quickly from that date with the project being one of the most recognized and successful large scale mixed use communities of its kind.
Last but not least – the sell out!