Two of my favorite restaurants to visit by sea or land are Cap's on the Water and The Conch House Restaurant. Cap's offers new coastal cuisine in an old Florida setting, while The Conch House is known for delectable Caribbean style cooking. Regardless which style you prefer, they both deliver fresh Florida seafood and outstanding service.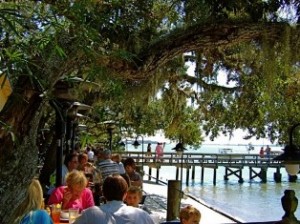 Some of my co-workers and I were recently fishing the Jetties in St. Augustine and decided to take the boat over to Cap's for lunch. Cap's is located off of scenic coastal highway A1A between Ponte Vedra and St. Augustine. The outdoor seating offers incredible views of the Intracoastal Waterway. Make sure to catch the sunset! They also have a large outdoor deck, a full bar, a sunset oyster bar, and an intimate outdoor dining room. My recommendations for lunch or dinner would be their raw oysters – East Coast, West Coast or Gulf oysters (they are all scrumptious), the Pesto Caesar with grilled or blackened shrimp, or the Beef Tips. Their Calamari Vilano is also one of my very favorites! Now, all you need to do is pair that with one of their deliciously spicy Bloody Mary's and you will be in heaven. Lunch is only served on Fridays, Saturdays and Sundays from 11:30 am – 3:30 pm. Dinner is every day from 4:30 pm to close.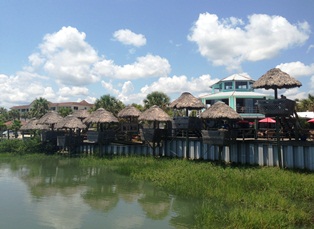 The Conch House Restaurant is another one of St. Augustine's waterfront jewels. The Conch House is on Anastasia Island, a short distance over the Bridge of Lions in St. Augustine, and can be reached by boat or car. Make sure to request to sit in one of their unique grass huts hanging over the water. On the weekends there might be a short wait, but it's worth it. When I was last at Conch House for lunch, a manatee swam directly underneath our grass hut followed by three baby sea turtles. It's a very cool experience!
You can't go wrong with the menu at The Conch House. They have everything from fresh seafood to steaks and excellent chicken dishes. They are known for Reggae Sundays, which is every Sunday from March to the end of September. From 3 – 7 pm they have amazing reggae bands like Pili Pili, Jah Creation, De Lions of Jah, SouLo Lyon and more playing live while you enjoy one or two of their famous Goombay Smash cocktails.