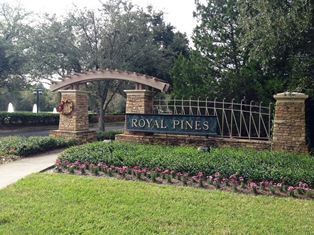 This month we are taking a closer look at Davidson Realty agent Pauline Cake's favorite World Golf Village community, Royal Pines. Pauline is one of the many Realtors that calls Royal Pines home. As she explains in the video, Royal Pines offers lavish custom homes, privacy and a serene, natural environment.
Pauline and I happen to be experts on Royal Pines. She has lived in the community for over 5 years and I have lived there for over 10 years. Royal Pines is a neighborhood that truly stands out in World Golf Village. As Pauline explains, driving into the community feels like driving onto an island because there's water on both sides of the community. The 40-acre lake that engulfs the community is perfect for canoeing, fishing or bird watching.
After entering Royal Pines, we stopped at the community park at the end of Royal Pines' cul-de-sac to spotlight the beautiful fountain and peaceful views that make up the community. As you can see in the video, all of the homes in Royal Pines are custom built and provide a multitude of unique architectural styles that make up the neighborhood. The majority of the homes in the community back up to preservation land or water, so privacy and tranquility are part of every day life in Royal Pines.
Another great perk to living in Royal Pines is the convenient location to The Village and I-95. Royal Pines is located on the resort side of World Golf Village, so you are a short walk or bike ride away from the World Golf Hall of Fame and IMAX Theater, the Slammer & Squire Golf Course, Murray Bro's CaddyShack Restaurant and more. The location is also ideal for those that commute to work.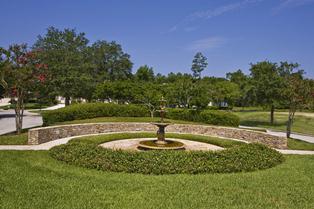 As a Royal Pines resident, you have access to all the amenities inside the King  & Bear community, like the Swim & Tennis Center, which includes a heated Junior Olympic-sized adult pool, lit tennis courts, a playground, a clubhouse, and an open-air veranda all adjacent to the Fitness Cottage. Also, all residents of World Golf Village have access to the neighborhood park, less than half a mile from Royal Pines. The park provides soccer fields, sand volleyball courts, a playground and a place for the Village Athletics to play their lacrosse games.
Royal Pines is comprised of approximately 100 homesites. The lot sizes in Royal Pines are a quarter acre to half-acre and average lot size is 85 feet wide to 150 feet deep. There are less than a dozen homesites still available to build on and only a few established homes currently on the market. Homebuyers are able to choose their own builder to build on a lot in Royal Pines.
For more information on Royal Pines or World Golf Village, give our in-house World Golf Village expert, Pauline Cake, a call at (904) 940-5000.