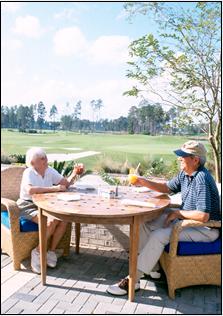 If you're in search of an elegant, distinctive, and fun venue for your next event, your search is over. The Slammer & Squire Golf Course's newly renovated and upgraded clubhouse opened last month to full service, and it was worth the wait! Overlooking the picturesque ninth green of the Slammer & Squire course, the clubhouse has a new look, improved amenities, and added features that make it a prominent centerpiece of its adjoining golf course.
Says Slammer & Squire General Manager Jim Hahn, "The overall look of the project is grand, rich, and of course, fresh and new. Overall, we are very pleased with the outcome and the feedback for all users has been very positive."
Management company Honours Golf selected renowned clubhouse design team Tom Hoch Design to complete the project. Hoch utilized a "revenue-based design model" to revitalize the 8,000 sq. ft. facility including interiors, furniture, fixtures, and equipment using a traditional "Grand Floridian" design.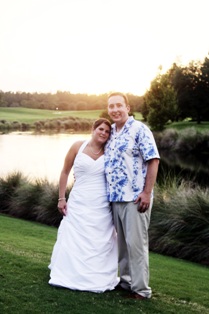 Today, the clubhouse is equipped to become the ideal venue for large and small outdoor/indoor weddings, corporate events, brunches and dinners, theme and holiday parties, and virtually any kind of social event. Says Hahn, "Our vision is to continue to grow our outing business and to offer the best venue for those events. We have a big focus to grow our outside wedding and large social event business."
Golfers and guests alike will now enjoy the following upgraded features:
A new bar with high-top pub style gathering tables, four large TVs, and comfortable lounge/dining furniture reflecting a luxurious yet casual and sporty "club" feel.
A private "Legends Room" for banquet dining, small social events, and business meetings.
Beautiful artwork and accessories that reflect the rich history and character of the course inspired by its legendary namesakes, Sam Snead and Gene Sarazen.
Upgrades to the outdoor terrace area including new patio furniture and awnings.
New furniture, fixtures, flooring, and doors throughout the entryways, and dining and event areas.
New A/V system to accommodate large events.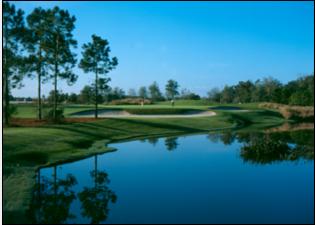 Says Hahn, "We set out to upgrade and create a fresh look with a beautiful new look for large social events and weddings. We offer a great option for weddings up to 125 or so. We gave the building a fresh, new look and updated all the areas."
The Slammer & Squire course was designed by Bobby Weed with close consultation by Snead and Sarazen, and features views of the World Golf Hall of Fame. The course has hosted the Champions Tour's Liberty Mutual Legends, and numerous other high-profile events and tournaments.
Don't miss out on the clubhouse bar's new daily happy hour launching on January 1! Monday through Friday between 3 and 6 pm, the bar will feature $2 draft beers, $3 house wines, and $4 well drinks.
For more information, visit http://www.golfwgv.com or stop by and check out the beautiful new clubhouse in person!