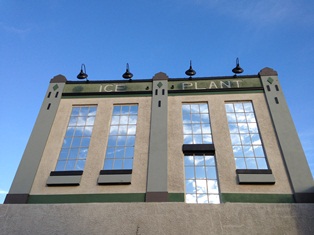 The Ice Plant Bar offers an experience like no other restaurant in our area. Its early 20th century vibe invites visitors to enjoy cocktails and delicious food the way it was in the early 1900s. Ice Plant focuses on fresh local ingredients and house-made juices and syrups to create unique cocktails that sit perfectly on the tongue. Their ice is carved daily from slow-frozen, filtered water and custom cut to fit any of their specialty drinks or spirits. Watching the bartenders craft the perfect drink is part of the experience! The cool, speak-easy atmosphere along with the friendly staff, exceptional food and creative drinks make for a perfect night out on the town!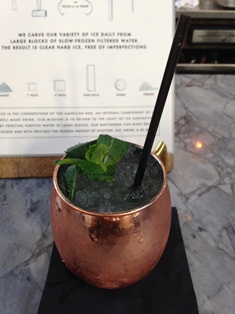 The Ice Plant Bar is known for their "farm to table restaurant and grain to glass bar". On my first visit, I indulged in the Florida Mule made with Cane vodka, seasonal ginger syrup, soda and garnished with fresh mint. It was made with pebble ice and I'm telling you…it was better than The Loop's ice. If you've eaten at The Loop Pizza Grill, you know what I'm talking about. My brother Sam joined me and had Basil Hayden Bourbon with a single large ice cube. He gave it five out of five stars for its perfect bourbon to ice ratio. It was enough to keep it cool, yet didn't melt quickly and dilute the bourbon.
On our next visit, we were there for the food we had heard so much about! I ordered the Veggie Burger, which came with dijonaise, avocado, lettuce, tomato, onion and a house pickle. Sam had the Ice Plant Burger; grass fed Georgia beef, bacon-chive aioli, lettuce, tomato, onion and a house pickle. Both were out of this world. Sam said the burger is the best he has ever had!
The Ice Plant Bar is located at 110 Riberia St, St. Augustine, 32084, right next to the San Sebastian Winery and St. Augustine Distillery, in the original "Ice Plant" building from the 1900's. They are open daily from 5 pm to 2 am. You can visit them online at www.iceplantbar.com to check out their cocktail menu and dinner menu. Try them out and let us know what you think!