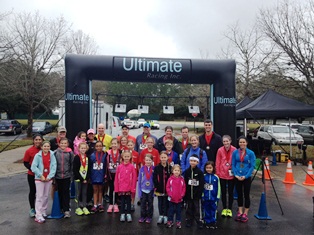 The rain didn't stop our World Golf Village neighbors and friends from coming out to support the first annual Davidson Cares' 5k & Kid's Fun Run on Saturday, February 8th in World Golf Village! There were close to 100 runners that showed up in the rain, including a large group from Mill Creek Elementary school that had been training for the race for months (a big thank you to Mill Creek Elementary School's Principal Amanda Riedl and Physical Education teacher Bob Larkin for their support). The kid's games were a hit and Arthur Crofton from Lite 96.1 WEJZ did a wonderful job MC'ing the event. All in all, it was a great day raising money for our local schools, including Mill Creek Elementary, Wards Creek Elementary, Palencia Elementary and Pacetti Bay Middle School!
The kid's loved playing laser tag in the rain and getting their air tattoos! We had lots of kid's getting their faces painted like dogs, cats and superheroes! Title Sponsor Mile Marker Brewing came out with a variety of beers to sample and S.O.S Diner served us some warm, delicious food! All proceeds from Mile Marker's beer donations and 50% of proceeds from S.O.S Diner went to Davidson Cares for the schools. We have some amazing community supporters!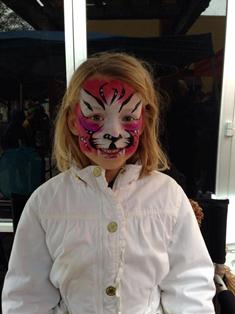 Please enjoy the video of all the fun we had at the race! The Kid's Fun Run was priceless! We are still calculating the proceeds, but we are looking forward to donating lots of money to the four schools mentioned above in April.
To join in on the cause and help support our schools, you can visit www.davidsoncares.com! Right now you can vote for your favorite school's grant videos to help them win $1,000 grants. The remainder of the money raised will be distributed to the schools based on total school votes for their videos. For more information, please give Peyton Davidson a call at (904) 940-5000.