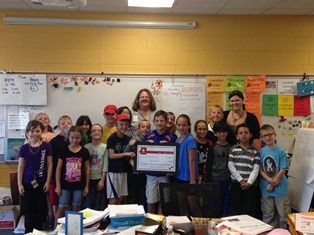 Davidson Realty's VP of Marketing Peyton Davidson and Marketing Coordinator Matt Burkhart had so much fun delivering grant checks to Palencia Elementary School, Wards Creek Elementary School, Pacetti Bay Middle School and Mill Creek Elementary School! The Davidson Cares' checks were awarded for the inspiring educational grant request videos submitted by teachers and PTO members for the needs within the schools. Voting for the videos took place from January 24th –  February 28th and teachers, students, parents, friends and the community were allowed to vote once a day for their favorite video from each school. All four schools received a $1,000 grant for the videos with the most votes and Pacetti Bay got an additional $500 for their anti-bullying efforts due to the importance of the cause. Congratulations to all the winners!
Palencia Elementary School decided to split the $1,000 grant in half, so Mr. Farnum and Ms. Wardley both received $500 towards their needs. Mr. Farnum is using his money to pay off his awesome exercise bike/electricity generator and Ms. Wardley is purchasing new art supplies!
Ms. Clubb and the entire 5th grade team were the lucky winners at Wards Creek Elementary School! They will be using the grant money to buy six Kindle Fires to share amongst the grade for math, science, reading, games and apps!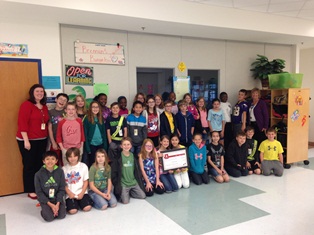 Pacetti Bay Middle School was in for a surprise when Peyton and Matt showed up with two grant checks! Assistant Principal Ms. Jacobson helped them surprise Ms. Teifer and the anti-bullying club members with a $500 grant check to help them buy supplies to make their mission visible to the school, purchase t-shirts, bring projects to Pacetti Bay that combat bullying, and continue to spread the word about Unity Day to all St. Johns County Schools. Ms. Hoffman was the winner of the $1,000 grant for tablets and iPads!
Peyton went on the morning news show with Principal Ms. Riedl at Mill Creek Elementary School to congratulate Ms. Babish's class for winning the $1,000 grant. Ms. Babish plans on using the money for activities and books! Mill Creek Elementary not only received a $1,000 grant, but they are also the overall winner of total votes between all four schools, so in mid- May they will be receiving 35% of the total money raised by Davidson Cares for the year!