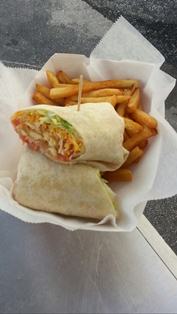 Davidson Realty is thrilled to welcome S.O.S. Diner, a local food truck company, to feature its fare at the Davidson Realty offices each Tuesday from 11 a.m. to 2 p.m.
S.O.S. Diner serves a variety of lunchtime favorites, including sandwiches, wraps, tacos, scrumptious sides, and various soups and stews. Visit S.O.S. Diner's Facebook page to see a menu and photos of their mouthwatering menu items!
Part of the proceeds will benefit Davidson Cares, which offers support through grants to several St. Johns County public schools, including Mill Creek Elementary School, Wards Creek Elementary School, Palencia Elementary School, and Pacetti Bay Middle School. The program also raises funds directly for the schools through an annual 5K race and other fundraising events.
Says Davidson Realty President Sherry Davidson, "S.O.S. pairs great food with the warm customer service that you can expect from a company that is local and family owned. We can't thank them enough for their support of Davidson Cares."
The Davidson Realty offices are located at 100 East Town Place in World Golf Village.