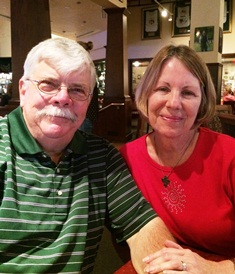 Though Randy and Bernadette Slocum are new residents, the couple actually took an interest in World Golf Village when it was just starting to take root in the late 90s.
While they didn't buy at that time, the community certainly made a lasting impression on the couple and they recently settled into the King & Bear community where they are enjoying the peace, beauty, and of course, golf. We caught up with Randy to learn more.
How long have you lived in World Golf Village?  We closed on our new home in December 2013. We have settled in on Crown Drive and are truly enjoying everything about this wonderful community. In fact, before we bought our home in Jacksonville 14 years ago we had looked at World Golf Village when it was in its infancy. 
What is your favorite aspect of living here?  We have always enjoyed the feel of the community and its tranquil surroundings such as watching cattle graze – versus the constant hustle of Jacksonville.
Tell us a bit about your roots.  Our roots are in the Northeast.  Bernadette is a first generation Irish American born in the Bronx, New York where she attended school and graduated with a Master's Degree in Nursing from Seton Hall University in New Jersey. She spent most of her career in Medical Sales, retiring this past June. 
I hail from New Jersey and was raised in the rural interior of the Garden State.  After graduating college with a degree in Marketing, I spent time in California raising and racing Standardbred horses for a few years before returning to New York where I joined MCI International. I spent 24 years traveling around the globe as Executive Senior Manager of Global Strategy and Development based out of Tysons Corner in northern Virginia.  I retired in March of 1999 and moved to Jacksonville with Bernadette and our daughter Ashley.  
To what do you like to dedicate your time?  Most of my free time is spent on the golf course. I have played the game for more than 60 years and I still enjoy every moment of it despite a rising handicap.  Bernadette is active in the Village Church and other charitable works. 
We sponsor a young man in Uganda and we are determined to turn Yolam into a goat rancher in his native country, if not his second choice of becoming a barrister, by supporting him and is family financially. It is very rewarding to share what you have with those in need. This is the way we look at life.
If you could travel anywhere, where would you go?  We enjoy traveling near and far.  In fact, I'd like to return to Italy where my European Sales office is located in Naples and spend time catching up with old friends and drinking some great wines.