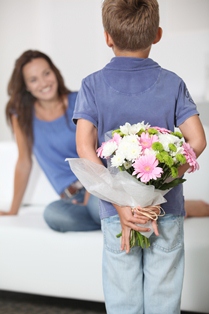 For many of us, Mother's Day is all about greeting cards, bouquets of carnations, and breakfast in bed. While these gestures are all appreciated, why not surprise Mom this year with an unexpected present that matches her personality to a tee? We've compiled some ideas for gifts that will suit almost any type of Mom. Let's start by considering what she likes. My Mom likes to …
… get outside and break a sweat!
Help your health-minded Mom keep track of her daily activity with a no pressure gadget that is simple to use: an activity tracker! There are many on the market, but the most affordable and highest rated trackers are the Fitbit and SYNC Fit brands. These tiny devices count steps, distance, and calories burned. They also sync wirelessly to Mom's laptop so she can use online tools to set goals and track progress. No need to worry though; even the lowest tech Mom can use the simple, one-button device! They sell online for less than $100.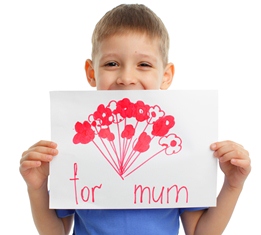 … get handmade goodies from her kids and/or grandkids!
Nothing will guarantee a smile more than photos of her kids or grandkids, which can be charmingly presented in a homemade "We love you because…" collage. Simply make big, clearly written signs explaining the silly, clever or sentimental reasons you appreciate Mom. For example, you might write "you made time for me even when you were tired", or grandkids might write "you smell like sugar cookies". Take and print photos of kids, grandkids, even grandpets alongside their signs, and put them in a multi-frame photo holder with ""We love you because…" written across the top. This is an inexpensive gift that is truly timeless.
… get pampered a bit!
While all little girls grow older, being treated like a princess is something they never grow out of. Depending on where she lives, you can make a quick call to Mom's local spa to set up a treatment. Whether it's a full day pampering package or a deluxe manicure/pedicure, you can't go wrong with this option!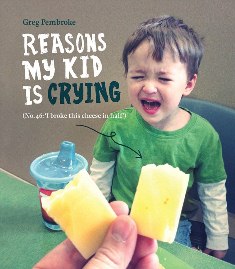 … laugh out loud!
Let's face it – after managing the messy, complicated days of parenting, mothers could all use a laugh. Why not give Mom the gift of laughter with a great book?  The popular "Reasons My Kid Is Crying" by Greg Pembroke is a hilarious take on parenting young children.  For the Mom who enjoys a good, witty novel, try the newly published "Let's Just Say It Wasn't Pretty" by Diane Keaton. Head over to www.amazon.com to check out these and other new books that are right down her alley.
… come to think of it, I have no idea!
If your Mom is tough to buy for – or seems to already have everything – you can still treat her to something that money can't buy: time spent with you! Surprise her with dinner at her favorite restaurant or take her to that movie she's been talking about. Odds are she'll enjoy your company more than anything!
If you want to get Mom something that you know she doesn't have, there is a plethora of websites that boast fun, unusual gifts including décor, accessories, and gadgets. Visit www.UncommonGoods.com or www.unique-mothers-day-gifts.com for some ideas to get started!