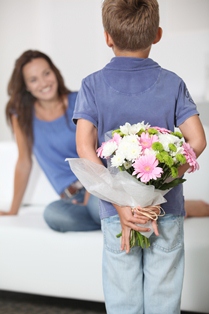 For many of us, Mother's Day is all about greeting cards, bouquets of carnations, and breakfast in bed. While these gestures are all appreciated, why not surprise Mom this year with an unexpected present that matches her personality to a tee? We've compiled some ideas for gifts that will suit almost any type of Mom. Let's start by considering what she likes. My Mom likes to …
… get outside and break a sweat!
Help your health-minded Mom keep track of her daily activity with a no pressure gadget that is simple to use: an activity tracker! There are many on the market, but the most affordable and highest rated trackers are the Fitbit and SYNC Fit brands. These tiny devices count steps, distance, and calories burned. They also sync wirelessly to Mom's laptop so she can use online tools to set goals and track progress. No need to worry though; even the lowest tech Mom can use the simple, one-button device! They sell online for less than $100.
read more +