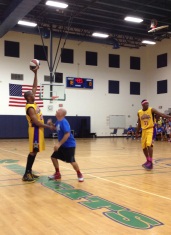 Pacetti Bay's recent Harlem Wizards event was a huge hit with World Golf Village residents and schools alike! The Harlem Wizards faced off against the "Wildcats" on Friday, May 23rd at Pacetti Bay. The fun event was hosted by Pacetti Bay's PTSO and title sponsored by Davidson Realty and Davidson Cares. Over 500 tickets to the event were sold and approximately $5,000 was raised for new technology at Pacetti Bay!
The night was full of fun on and off the court! VIP pass holders were able to meet the Harlem Wizards' players before the game and sit courtside for a front row view of all the action. Each grade made a basket to raffle for the event, including a sports themed basket, a family fun basket, a beach basket and others. Fantastic raffle prizes included Disney, Universal, Seaworld and more. And, there were delicious food items for sale all benefiting Pacetti Bay, like SOS Diner food truck and Little Caesar's Pizza.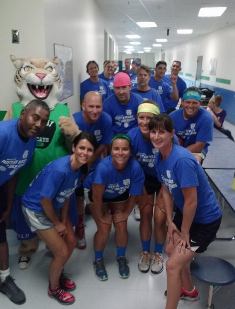 The Wizards weren't the only entertaining personalities present at this year's event! Miss Teen Florida Amber Robbins was present, as well as Mrs. Galaxy International Kelli Robbins, "Little Caesar" mascot and the Pacetti Bay Wildcat. Pacetti Bay teachers formed an awesome cheerleading squad, too!
The "Wildcats" team was comprised of teachers, staff and principals from local schools. The Wildcats team included:
From Pacetti Bay Middle School, Shawn Ryan, Meghan Ryan, Dan Hawkinson and Kim Schwenk
From Ward's Creek Elementary School, Kevin Klein, Holly Badget and Krista Bittengle
From Mill Creek Elementary School, Principal Riedl and Mr. Gamel
From Nease High School, Josh Bailen
From Palencia Elementary School, Principal Anderson and Ms. Royal
Thank you to all the parents, students and fans for coming out to support Pacetti Bay! Other generous sponsors included Kangaroo Express, Little Caesar's, I9 Sports, Fields Cadillac as a "Slam Dunk Sponsor", Publix, Smoothie Fresh and other ad sponsors!