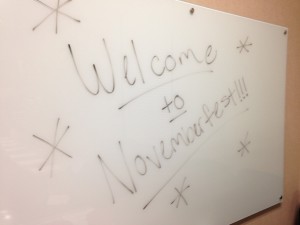 Thank you so much to all of our World Golf Village neighbors, parents and friends for helping to raise over $5,000 for our schools at this year's Davidson Cares' Novemberfest Fundraiser! This year's event was better than ever with live music by Terribly Fantastic, an incredible taco bar, delicious craft beers, delectable wines, and over 45 raffle/silent auction items. All money raised will be donated to Mill Creek Elementary, Wards Creek Elementary, Palencia Elementary, Pacetti Bay Middle School and Nease High School.
Novemberfest would not have been successful without the support of Title Sponsor Bank of England, Burkhardt Sales & Service for their backing, and Bold City Brewery and Blackstone Grille for donating all the adult beverages. A big thank you to everyone who donated silent auction and raffle items, volunteers, attendees and sponsors! We can't thank you enough!
Davidson Cares is just getting started! We have a lot more coming up this year, which means more money for our schools. Palencia Elementary is set to have their first annual MOJO BBQ Night on Thursday, December 11th, so mark your calendars and get your food ordered by emailing Peyton Davidson at pdavidson@davidsonrealtyinc.com. You can pick your family meal up in the Palencia carpool lane that night!
Also, the Davidson Cares' 5k/10k & Kid's Fun Run is back on Saturday, March 7th! That day will also be the kick-off of the Third Annual Vacation Raffle. Stay tuned for more information or check out www.davidsoncares.com!
To make a donation to our schools, please visit www.davidsoncares.com or call Peyton Davidson at (904) 940-5000.