If you love a good brew like many Northeast Floridians, you're in for a real treat! Ancient City Brewing, St. Augustine's newest brewery, is gearing up to open on Friday, May 15, in same spot that housed the now closed Mile Marker Brewing.
With a larger beer capacity and a newly designed tap room, Ancient City is sure to offer an all-new experience for patrons. While management secures its brewers license and makes its own brews available, which they are hoping for by late June or early July, the brewery is offering lots of other beers and samples of its own brews.
Ancient City is co-owned by Greg Tuttle and Dylan Rumrell, and Vance Joy serves as head brewer. We recently caught up with Vance to ask some questions about the new brewery.
How will Ancient City be different than Mile Marker? Ancient City is a completely new brewery, with a new ownership structure, that is committed to bringing quality craft beer to the St. Augustine community and beyond. We believe that the patrons who once frequented Mile Marker will see all the great changes, which include, but aren't limited to, a complete cosmetic remodel of the tap room.
How many beers will you be offering in the tap room when you open? We have 20 taps that we'll place craft beers on from breweries all across Florida including Green Room, Bold City, Engine 15, Veteran's United, Pinglehead, First Magnitude, Swamphead, Proof, Cigar City, Big Storm, Tequesta, Funky Budda and a few more. We'll also rotate in some of the greats from the North, Midwest and West whenever we get a chance.
Tell us a little about the Ancient City beers you'll be brewing. We are going to be able to keep somewhere around 10 to 12 of our own beers on tap here. We will start with an IPA, a Golden Ale and a Coconut Porter (each of which will be available to try at the opening!), with a Red Ale and Pale Ale to follow. We're excited to be working on multiple new recipes.
Which brew are you most excited to introduce? It's difficult to answer because every beer we make takes a lot of time and thought. I will say that I am very excited about the Coconut Porter due to the great amount of time and care we've put into perfecting the recipe. We're actually treating the water slightly for this brew and have gotten excellent results.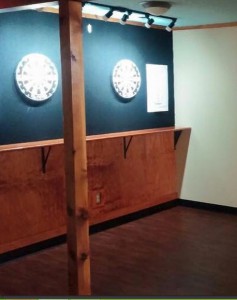 Besides the fantastic beers, what can we expect at the May 15 opening? We will have live music, and some merchandise giveaways. Be the first to get your hands on some Ancient City merchandise!
Post opening weekend, we're going to have a Thursday trivia night, hosted by Adam Lee, which will feature a mix of live music and trivia (with prizes for the winners). Trivia Thursday is scheduled to begin on May 21 at 7 p.m. We will also have multiple live music acts, dart and poker league nights, and many other great events.
Find Ancient City Brewing online at AncientCityBrewing.com as well as on Facebook and Instagram (Ancient.City.Brewing). The new brewery is located at 3420 Agricultural Center Drive, Suite 8, in St. Augustine (west of I95 near the St. Augustine Premium Outlets).