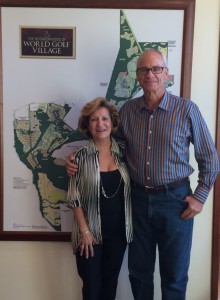 Residents of Heritage Landing were recently treated by Davidson Realty Agent Mirtha Barzaga to an educational event that explored the past, present and future of the World Golf Village area. About 25 homeowners came out to enjoy the May 27 event in the community's Heritage Room featuring speaker Rick Pariani, Vice President of Design and Development for Davidson Development.
"The story of World Golf Village includes more than 25 years of history. Every development, every golf course green and every home is part of that story, which is still being written," said Mirtha. "Many thanks to Rick for coming out and sharing the past stories about World Golf Village and Heritage Landing, as well as insights about the future of the area."
Rick, who has been with Davidson for more than 18 years, also provided information about available commercial spaces, land owners and residential plans. Rick was responsible for directing design and development, particularly in connection with the neighborhoods, mixed-use and core areas of World Golf Village.
For more information about Heritage Landing or World Golf Village real estate, contact Mirtha Barzaga at 904-501-1830 or mbarzaga@davidsonrealtyinc.com.