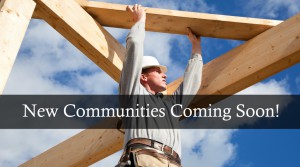 For more than 25 years, the greater World Golf Village area has served as Northeast Florida's premier destination for families, retirees, golf enthusiasts, nature lovers and everyone in between. Equal to our beautiful vistas and diverse neighborhood amenities, Villagers enjoy a convenient presence of shops, restaurants and local commerce. This is a great place to live, and it keeps getting better.
Since construction has recovered back to a healthier pace, Davidson Realty has been tracking new developments coming to the area that reflect the prestige and refinement that defines the neighborhoods of World Golf Village, which spans north to south from CR 210 to CR 208, and east to west from US1 to CR 13.
In fact, more than 33,000 homes are planned for the greater area, which promises to put World Golf Village "on the map" as the place to be for future residents and commerce alike. Within the area, we are seeing more than 30 neighborhoods in progress ranging from the permitting phase through construction and sales.
"There is a lot of exciting activity throughout the greater area, notably west of I95," said Jim Davidson, President of Davidson Development, Inc. Permitting and construction have begun for developments along SR 16 as well as CR 13A and CR 210, among other World Golf Village thoroughfares.
For example, more than 1,300 new homes will occupy sites on the east side of I95, another 3,500 new homes on south Pacetti Road, almost 1,000 new homes along SR 16 and thousands of new homes along and adjacent to the CR 210 corridor. The largest new project in St. Johns County is currently being permitting for up to 10,700 homes right in the heart of the greater World Golf Village area, known as Silverleaf.
Plans for single-family homes, condos and townhomes will feature attractive home designs from top quality home builders like Mattamy, Dream Finders, Lennar, D.R. Horton and KB Homes, as well as many respected and talented local builders.
Jim continued, "Along with residential, many of the plans include office, retail and some industrial spaces. We're seeing good, diversified growth that's comparable to other parts of St. Johns County and the First Coast, which is great news for our community."
For more information, contact a Davidson Realty agent at 904-940-5000.