St. Augustine has been gearing up for its 450th birthday celebration for quite some time. Though the banning of food trucks and remnants from Hurricane Erika might have dampened some excitement, most Augustinians are ready to get the party started. Here are the major events queued up for the week: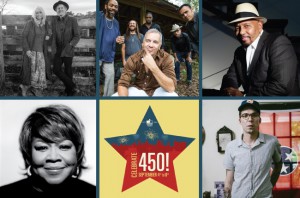 Music & Street Festival, Sept. 4 – 6
The festival will have a main stage near the Bayfront and four additional stages (Plaza stage, Hypolita Street stage, the Colonial Quarter stage, Aviles Street Festival), all situated throughout the downtown area. The Bayfront main stage, located directly in front of the Plaza de la Constitucion, will welcome several big names including Aaron Neville (Sept. 4), JJ Grey & Mofro (Sept. 5), Emmylou Harris & Rodney Crowell (Sept. 5), among others.
KidZone & Family Oasis, Sept. 4 – 6
The family friendly area will be located in front of the Government House on St. George Street between Cathedral Place and King Street. Kids will enjoy face painting, a sandbox, beach chairs and water misters, archaeological dig boxes and history touch boxes.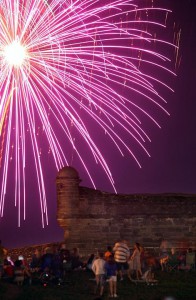 Fireworks Over The Matanzas, Sept. 5
Come early to get a good spot for the spectacular display over the river. The best views will be from the Bayfront or Bridge of Lions, both of which will be closed to traffic for pedestrians. Fireworks are slated for 11 p.m.
EMMA Concert Fiesta 450!, Sept. 6
The EMMA Concert Association presents "Fiesta 450!,″ a celebration at the St. Augustine Amphitheatre, which will showcase St. Augustine's Spanish heritage. Gates open at 3 p.m. Tickets can be purchased on EMMA's website or at the St. Augustine Amphitheatre's website.
Cake Cutting & Proclamation, Sept. 7
No celebration is complete without a cake! Come to the Plaza de la Constitucion to enjoy music, a reading of the official 450th Birthday Proclamation and cutting of the 450th Birthday Cake. Everyone is invited to enjoy a free piece of cake at 2 p.m. in the Public Market. The event will last from noon to 5 p.m.
Founding of St. Augustine Reenactment, Procession & Commemorative Mass, Sept. 8
On Sept. 8, 1565, Admiral Don Pedro Menendez de Aviles stepped ashore on Matanzas Bay and founded St. Augustine, Florida. In celebration, Florida Living History, Inc., the Diocese of St. Augustine and Mission Nombre de Dios will present the annual re-enactment of Menendez' landing on the original landing site. The event begins at 9 a.m. so come early for a good spot!
There are many more celebrations planned to commemorate St. Augustine's 450th!