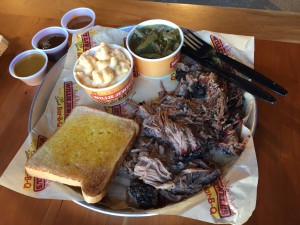 Willie Jewell's is a great new addition to the restaurants in World Golf Village! I stopped by last week for the first time to check it out and get my barbeque fix. Let me tell you, the food does not disappoint. The Adeeb Family, the owners of Bono's Pit Bar-B-Q and Willie Jewell's, really got it right with this one!
Willie Jewell's offers finger-licking appetizers like Country Corn Fritters, Fried Okra, Chicken Wings, Fried Pickles, and Homestyle Onion Rings. The corn fritters dipped in their homemade ranch dressing is the way to go! They also have a variety of salads, sandwiches, big ol' platters and southern sides! Our group went for the Crispy Chicken Salad, the Beef Brisket platter and the Smoked Turkey Platter. I tried bites of the mac-n-cheese, collard greens and fries and they were all delicious.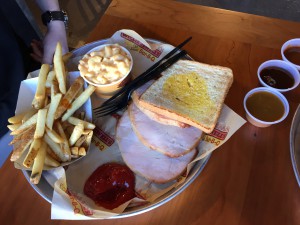 Of course, they have yummy options for the kids, like the Kid's Chicken Tenders or the Kid's BBQ Sandwich. Make sure to try a variety of their famous sauces, all served warm with recipes dating back over 65 years! After you fill up on the barbeque, wash it all down with one of their homemade desserts. Who doesn't love banana pudding, bread pudding, peach cobbler and pecan pie? Get a round for the table!
Willie Jewell's is located at 105 Murabella Parkway. You can find them online at williejewells.com or give them a call at (904) 342.2373 to place a take-out order. This is a perfect place for a quick lunch. The food comes out very quickly!