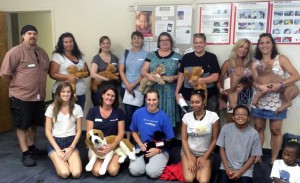 Are you tired of leaving your pets at home bored and alone for hours while you're at work? Hate the thought of leaving them at a kennel for days while you travel? Dog Days & Cat Naps is your solution!
A local pet sitter and dog walker serving Northeast Florida for more than 15 years, Dog Days & Cat Naps cares for friendly, non-aggressive domestic pets including dogs, cats, rabbits, guinea pigs, ferrets, hamsters, birds and fish.
Founder and owner Becky Eberly launched the company in 2000 to offer a full suite of services to meet the varying needs of local pet owners. That includes midday dog walking, vacation pet sitting, overnight pet sitting, private boarding, doggie daycare, hotel/hourly pet sitting, pet transportation, pet supply shopping, pooper-scooper services and even wedding pet care.
So, what goes into your typical pet sitting appointment? According to Becky, visits meet all the pets' needs and more.
"During a typical 30-minute visit, our duties include feeding pets, refilling fresh water, walking the dogs (or potty time in the yard), playtime/attention for all pets, washing pet's dishes, giving treats, administering medications, cleaning up pet messes including litter boxes, and basic home care services."
Dog Days & Cat Naps usually provides one to two visits per day for cats and other small animals, as well as two or three visits per day for dogs.
Interested in pet services but have a bashful pet? Becky recommends scheduling a meet-and-greet with the pet sitter before any pet sitting begins.
"This is important so that both the client and pet feel comfortable with the sitter (and so the sitter can obtain important information about the pet sitting assignment). In addition, a practice visit may be a good idea if the dog is shy or the cat likes to hide. The client could leave the home for a short while, and allow the sitter to do a practice visit to see how things go before the client goes on vacation."
Rest assured your furry friend is in expert hands. The company's sitters, who are spread throughout Duval, Clay and St. Johns counties, are life-long pet owners and most are trained in pet first-aid.
Visit www.dogdayscatnaps.com to meet the sitters as well as check out rates (10% off for military and seniors!) and even create an account to request services, view your schedule, cancel visits, upload pet info and photos and pay online.
Also, connect with Dog Days & Cat Naps on Facebook to receive promotions and coupons through its online newsletter (www.Facebook.com/dogdayscatnaps).
Want more information? Call 904-241-7387 or email dogdays1@comcast.net.
Don't paws and wait – call meow!