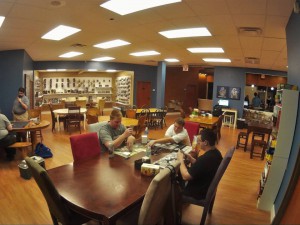 Our corner of St. Johns County is home to a strong local gaming community with many enthusiasts. And now, gamers have a home where they can relax, connect and game together. Introducing Big Daddy Games, World Golf Village's new gaming store and meeting place for gamers.
Co-owners and cousins Matt Steinhour and Dave Raderstorf opened the store on December 26 of last year. Customers have already come to enjoy the comfortable, like-home appeal of Big Daddy Games where they can connect, not through a screen, but face-to-face with other gamers.
We caught up with Matt to learn more about his new business.
Tell us about the Big Daddy experience. Customers can expect a comfortable, fun environment regardless of age or game preference. We are a retail establishment, so we have hundreds of games for sale, but we also have over 2,000 sq. ft. of space to play those games in at no cost.
So, whether you want to host a game at the store because you don't have the room you need at home, or you're looking for someone else who has the same love of Settlers of Catan, we have the space, staff and environment to make your experience an excellent one. Our dozens of store copy games assure that whether it's a date night or a family night, we have the materials you need to have a great time.

What inspired you to open Big Daddy Games? A couple of factors really impacted our inspiration to open Big Daddy Games. First, we're gamers at heart and we wanted to provide a location for folks of all ages to have some memorable and positive experiences. Second, we are parents and what we really wanted to do is to create a safe, inclusive environment for everyone. This concept is what drives our tag line: You Belong Here! It's because we really do want everyone to know that they're welcome.
What is your biggest seller right now? Our biggest seller is a Trading Card Game called Magic: The Gathering. It's a card-based game where each player chooses 60 out of thousands of cards that have different effects on the game to see who can build the best synergies. So, there's a strategic component, a trading component because some cards are printed less frequently, and a social component when they compete. It's a win-win-win!
What are some of your weekly events? We're adding more events every week! Most of the tournaments we have are Magic: The Gathering tournaments in a variety of formats, standard, draft and commander. We also host Dungeons and Dragons evenings, Yu-Gi-Oh tournaments and Star Wars X-Wing nights.
We also have a family night we call "Make Mondays Better" where you can call us and let us know how many are in your family and what your pizza preferences are and we have a pizza for you waiting when you arrive with a reserved table and the game or games of your choice available to play.
What is your favorite game? Wow, that's a tough question. I think Magic: The Gathering is my favorite because of the multiple elements of the game, but Dungeons and Dragons has been with me from my geek origins, and that game will always have a place in my gamer's heart.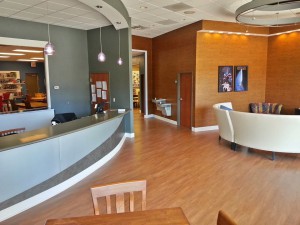 Tell us about the DeckBuilder feature on your website. The DeckBuilder feature is a great option for those who know what kind of Magic: The Gathering deck they want to build and what cards they want to add. They simply cut and paste their card list either from online or excel, and our site will automatically create a shopping list to price the cards out and send the order to us to be filled immediately.
What sets Big Daddy Games apart from other gaming stores? First, our family environment and the ability to play the games in the store at no cost. It encourages a sense of community. Since this is an option, it frees up a lot of stress. Some of the games can be pricey and to be able to play a store copy first, find out if it really fits you is unique.
Second, our staff. We have fantastic staff who can engage and relate to create that rapport that really makes them feel welcome.
Third it's our location. We've had so many folks come in, excited that we're so close to their house or church so that they can come over and play for an hour or so, or an emergency birthday gift, or a chat about the new version of a game. It's that community engagement that is cultivated because we're in their neighborhood.
Big Daddy Games has already begun making a name for itself throughout the community from partnering with local schools like Wards Creek to providing sponsorships for programs such as the Nease Wrestling team, Pacetti Bay Magic Club and Fruit Cove middle role playing club.
Visit www.bigdaddygame.com for more information or visit them on Facebook at https://www.facebook.com/TheBigDaddyGames/?fref=photo. Game on!