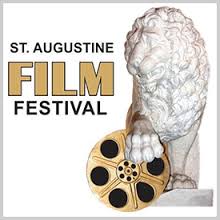 Local film buffs are buttering their popcorn and gearing up for the 7th Annual St. Augustine Film Festival, coming January 21 and 22!
Presented by Flagler College, the event will feature more than 40 films—many international—shown in five local theaters including Flagler's Lewis Auditorium, the Gamache Theatre, and three screens at the Corazon Theatre. Some viewings will even feature special guests like directors, writers and actors.
Don't forget the parties! The festival will kick off at the Opening Night Party on Friday, January 20 at the Lightner Museum Ballroom. A Centerpiece Party (January 21 at the Collector Luxury Inn & Gardens) and Wrap Party (January 22 at The Solarium atop Ponce Hall) give patrons a chance to mingle and discuss their top film choices.
There are several ways to attend the festival. Movie goers can either purchase a pass to any and all films ($95), buy a pass to all films shown at the Lewis Auditorium ($55), or purchase individual tickets for each chosen film (regular $10, senior $8, military or student $7). Visit the festival's ticket page to learn more, read about ticket availability and order passes.