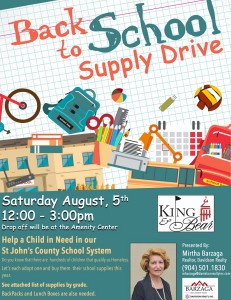 Did you know that hundreds of children in St. Johns County qualify as homeless? Let's come together to make sure they have what they need to start their school year off right! Davidson Realty agent Mirtha Barzaga is hosting a Back to School Supply Drive on August 5th and 6th to collect items like backpacks, pencils, lunch boxes, highlighters, calculators, colored pencils and more!
The Supply Drive is to support children in need from Kindergarten through eighth grade at our local schools. Each grade has a specific list of needs, which you can view by visiting http://www.davidsonrealtyinc.com/resources/events or Davidson Realty's Facebook page at www.facebook.com/davidsonrealty. Any items you can provide would be so appreciated!
Drop off locations:
The King & Bear Amenity Center on Saturday, August 5th between 12 and 3 pm
The Heritage Landing Amenity Center on Sunday, August 6th between 12 and 3 pm
Mirtha Barzaga has been a Top Realtor at Davidson Realty for 10 years. She has always had a passion for serving our community from supporting the ROTC program at Nease High School to her annual Food and Toy Drives for St Johns County residents in need during the holiday season. For more information, call Mirtha at (904) 501-1830 or email her at mbarzaga@davidsonrealtyinc.com.