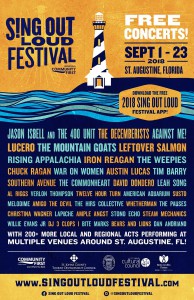 If you love live music but have no interest in paying Ticketmaster prices to see shows, you are in luck! St. Augustine's 2018 Sing Out Loud Music Festival runs the first four weekends in September and performances are free and open to the public!
The festival includes concerts at 19 venues throughout St. Johns County including the St. Augustine Amphitheatre, the Ponte Vedra Concert Hall, Colonial Oak Music Park, Plum Gallery on Aviles Street, Bokeh, Dog Rose Brewing, Limelight Theatre, Nobby's, Sarbez and others.
Hundreds of musical acts representing multiple musical genres are scheduled to perform. Some of the headliners include Jason Isbell and The 400 Unit, The Decemberists, Lucero, Rising Appalachia, The Mountain Goats, Leftover Salmon, Propagandhi, War On Women, The Weepies, Chuck Ragan, Tim Barry, Southern Avenue, The Commonheart, David Dondero, Leah Song, Al Riggs and many, many more.
All the concerts are free except for a benefit concert on Sept. 22 for the Betty Griffin Center. The charity concert will include Jason Isbell and The 400 Unit, The Decemberists and Lucero.
Visit SingOutLoudFestival.com for a full schedule of concerts and venues. See you there!