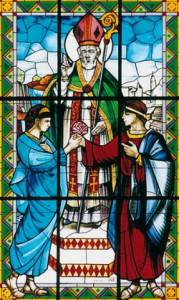 The history of Valentine's Day is rich with lore, but one thing is indisputable: people all over the world are smitten with the sweetest of the holidays, Valentine's Day!
About one billion Valentine's Day cards are exchanged each year, making it the second largest card sending holiday of the year. In 2018, Americans spent nearly $20 billion on chocolates, jewelry, flowers and all things Valentine.
Traditions relating to Valentine's Day date way back to Roman times. It's difficult to credit a single person named "Valentine" with its origin (there are at least eight St. Valentines on record). And there are at least as many accounts of the holiday's real origin. Despite that, it officially became a holiday in 1537 as declared by England's King Henry VIII.
Here are some other interesting stories behind Valentine's Day traditions:
Signing a card from "Your Valentine" is said to originate from the imprisonment of Valentine of Terni, a bishop who secretly married couples despite a marriage ban by Roman Emperor Claudius II (who thought married men made poor soldiers). Valentine was found out and sentenced to death in 269 AD. During his imprisonment, Valentine fell in love with his jailer's daughter, who was blind. According to the story, Valentine healed her blindness and left her a card before his death, signing it from "Your Valentine."
The "X" kiss symbol (as in XOXO) became synonymous with the kiss in medieval times. Since most common people could not read or write, the X was placed on documents and a kiss was placed over it as a show of sincerity. Today, many people sign Valentine Cards with X to symbolize a kiss.
Wearing your heart on your sleeve used to be more than a metaphor. In the Middle Ages, young men and women drew names to see who their Valentine would be. They would wear the name pinned to their sleeve for one week so that everyone would know their supposed true feelings.
Sending Valentine's Day cards dates to the early 1700s. In the 1840s, Esther Howland, known as the "Mother of the Valentine", began selling the first mass-produced valentines in America using lace, ribbons and colorful pictures.
Giving chocolates to your Valentine is often credited toRichard Cadbury in the 1800s. He created a more economical production process that brought chocolate (previously only afforded by the elite class) to the masses and designed the first decorative heart-shaped box, changing Valentine's Day forever. (We also enjoy his creme eggs at Easter!)
The Valentine's Day Wikipedia page features many more fascinating backstories, legends and traditions!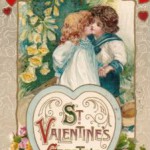 How will you be spending your Valentine's Day? The King & Bear is featuring a Valentine's Dinner at the clubhouse including a special three-course dinner, live entertainment by Lou Parisi and a complimentary rose for the ladies. For more information, visit www.golfwgv.com or call 904-940-6088.
Happy Valentine's Day!