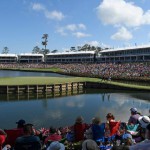 This week, The PGA Tour's Players Championship will ascend upon Ponte Vedra Beach and tens of thousands of spectators will gather at Sawgrass to watch golf's greatest players compete.
But, after watching Rickie Fowler finish his last hole of the day, that sinking feeling sets in. Exhausted, you resign yourself to sitting in maddening bumper-to-bumper traffic.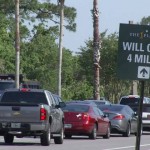 Great news: you don't have to! There are plenty of activities surrounding the golf course to avoid traffic headaches and have a great time.
Grab dinner at one of the fantastic nearby restaurants.Ponte Vedra Beach has some of Northeast Florida's best eateries. If you're looking for a quick bite to eat, check out Trasca & Co. or Aqua Grille. For a more upscale fine dining experience, head to Restaurant Medure or Ruth's Chris Steakhouse. On-site dining is also an option at Nineteen. Best of all, each of these restaurants is within walking distance of Sawgrass.
If you're looking for waterfront dining away from the crowds, steer toward the Intracoastal Waterway (via Solana Road) and enjoy dinner at Palm Valley Fish Camp or head down Palm Valley Road and stop at Valley Smoke on Roscoe Boulevard.
Peruse the shops at Sawgrass Village.The walkable shopping center boasts boutiques, an art gallery,  eateries and more. TPC specials are featured at several retailers including Opulence of Southern Pines. ABC Fine Wine & Spirits will also host a TPC Ponte Vedra "Vine Affair" Wine Tasting on Wednesday, March 13, from 6 to 9 p.m.
Treat yourself at the Sawgrass Spa.After leaving the TPC, wait out the traffic by treating yourself to an afternoon facial at the Sawgrass Marriott Golf Resort & Spa! Click hereto see spa services and make your reservation in advance.
Head to the beach!You can either take a detour south to Mickler Landing or cut over to Ponte Vedra Boulevard via Corona Road and enjoy the relaxing waves—instead of car exhaust fumes!
Attention military!All career military (active duty, reserve, military retirees and dependents) receive complimentary admission on Tuesday, March 12, for Military Appreciation Day! A ceremony will take place on the 17th hole at 5 p.m. followed by a Jon Pardi concert at 5:30 p.m. Both the ceremony and the concert are free to any Tuesday ticket holder. 
Of course, if you're not attendingThe Players, you can still join in the festivities at the World Golf Hall of Fame where the tournament will be broadcast live throughout the museum. You can also see TPC artifacts and photos. The World Golf Hall of Fame is open Monday through Saturday from 10 a.m. to 6 p.m. and Sunday from noon to 6 p.m.
The Players Championship will be held from Tuesday, March 12, to Sunday, March 17.