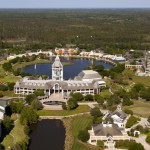 As our national and local economy remains robust, we can expect many more commercial, retail, office, personal service, dining, and entertainment options to blossom and complement our community.
The greater World Golf Village community has a pair of mixed use "crossroads" that continue to attract a good diversity of development.
The main crossroad complex is at the intersection of International Golf Parkway (IGP), Pacetti Road (C.R. #13A) and S.R. #16. For some time, the intersection has been anchored by a 52,000 SF Publix and a pair of corner drugstores, Walgreens and CVS. The original center, The Shoppes at Murabella, has a full roster of tenants and the Walgreens corner has a new Auto Zone.
There are now many new developments expanding the intersection area. The adjacent Markets at Murabella is anchored by Willie Jewel's BBQ and Gators Dockside and has more capacity in its soon to develop phase II addition. Another segment, The Markets at Capulet, has filled with businesses and restaurants, stretching east to the Vystar bank, including Cinco de Mayo, Brucci's Pizza Place, Dunkin Donuts and dueling mattress stores.
Just south of these centers, facing Pacetti Road, the new Flagler Health Center at Murabella and its affiliated YMCA, is due to open this summer. The Health Center will offer primary care, pediatrics, urgent care, obstetrics, gynecology, imaging, laboratory services, and specialty care. Across the street at the entrance to the King & Bear, the new KinderKare Learning Center is almost complete and ready for its ribbon-cutting. The combination daycare and early learning facility is designed for children from 6 weeks to 12 years old for their health, safety, childhood education and fun. Next door, the Village Church is underway with its new sanctuary.
The mixed-use property next to Walgreens and the Auto Zone will soon be developed into another, yet-to-be-announced, commercial center by RimRock Development. Across S.R. #16, a 5 acre commercial site, between the Catholic Cemetery and the crossroad intersection, has secured permitting and should also undergo commercial and retail development sometime this year.
The long anticipated, grocery-anchored, +-43 acre, triangular-shaped, commercial center site, bound by IGP and S.R. #16, has been purchased, planned and engineered – so it too should commence construction sometime this year. Development participants in the yet-to-be-named commercial center include Peter Sleiman, Cantrell-Morgan and Stiles Construction with a Lucky's Grocer as the reported anchor store.
The other crossroad complex is at the intersection of S.R. #16 and C.R. 16A. This intersection is locally referred to as "Wolfe Cut-off" but surely will become known as the "Silverleaf Entrance", the 10,700 residential unit development that is under construction, spanning from the crossroads, north to C.R. #210.
Silverleaf's main entranceway will be book-ended with a pair of commercial/retail parcels. On the opposite side of the crossroads is a new Ace Hardware and Turner Home store that is due to open this spring, as the anchor for Mill Creek Plaza. The Plaza also has additional capacity for more stores and possibly a service station. Across from the Ace Hardware is a 13.55 acre corner site for more commercial development, known as Bridal Ridge Plaza. In the near future, the crossroad intersection will be reconfigured and improved, and no doubt will be framed with development on all sides.
International Golf Parkway, from The Shoppes at Murabella to the front door of Palencia, has a string of new offerings. Elite Smiles dental facility is soon to open next to the Burger King and Gate Service Center at the west intersection of IGP and World Commerce Parkway. At the east intersection of the same two roads, overlooking the Interstate 95 World Golf Village interchange, the Texas purveyor, Buc-ee's, will soon be under construction with their 52,254 SF, truck-restricted, travel center and convenience store along with 104 fuel pumps and 392 parking spaces.
On the east side of Interstate 95, off of IGP in Saint Johns Place, both Lions Gate One and Two (fka Lakeside Promenade) have filled with tenants and the former Comfort Suites hotel has been re-branded as a Holiday Inn. Four new developments are underway, including WGV Gymnastics, Cube Smart Self-Storage, Julington Creek Pest Control and a 6,200 SF commercial building next to the Shell Gas Station. Across the street from Saint Johns Place, the Bannon Lakes Commercial Center has commenced with its first new building, a Wendy'sfranchise – sure to spur follow-on developments of a similar kind.
Further east on IGP, a new boat and RV storage compound has opened next to the rapidly-expanding Holmes Plaza industrial complex. At the east end of IGP and gateway to Palencia, there are numerous shops, stores, restaurants and services with plenty of near-term capacity for more complimentary businesses. The original collection of storefronts, anchored with a Starbucks's endcap, has flourished. The Shops of Palencia Commons has been recently remodeled, expanded and anchored with a Publix Grocer and soon to open Salsa's Mexican Restaurant. The adjacent Plaza Palencia is built-out after being anchored by Donovan's Irish Pub. North of these centers, the Professional Center at Palencia Commons has 9 of its 11 office suite buildings constructed. Next to the office buildings, the Circle K Convenience and Service Center has a new neighbor building with tenants including Your Pie Pizza, Joint Bagel and Aviles Dental Care.
The Shops at World Golf Village, on the Walk of Champions by the Golf Hall of Fame and Renaissance Resort Hotel, has a new owner from South Florida. The buildings are being remodeled and marketed and have their first two new tenants. Near the Murray Brothers Caddyshack Restaurant, the Sunshine Play and Learning Center recently opened, offering indoor play areas, parties, educational classes and activities for children up to 6 years in age. On the opposite end of the center, the Crystal Ballroom Saint Augustine is now in business offering indoor and outdoor wedding and party celebrations and customized event planning solutions.
Although a regionally-large commercial center, with all of its activity and traffic generation, has yet to put down stakes in the greater World Golf Village area, you can still count on a myriad of other options that will become convenient, near-by destinations.