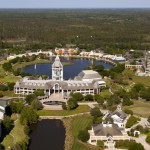 As our national and local economy remains robust, we can expect many more commercial, retail, office, personal service, dining, and entertainment options to blossom and complement our community.
The greater World Golf Village community has a pair of mixed use "crossroads" that continue to attract a good diversity of development.
The main crossroad complex is at the intersection of International Golf Parkway (IGP), Pacetti Road (C.R. #13A) and S.R. #16. For some time, the intersection has been anchored by a 52,000 SF Publix and a pair of corner drugstores, Walgreens and CVS. The original center, The Shoppes at Murabella, has a full roster of tenants and the Walgreens corner has a new Auto Zone.
There are now many new developments expanding the intersection area. The adjacent Markets at Murabella is anchored by Willie Jewel's BBQ and Gators Dockside and has more capacity in its soon to develop phase II addition. Another segment, The Markets at Capulet, has filled with businesses and restaurants, stretching east to the Vystar bank, including Cinco de Mayo, Brucci's Pizza Place, Dunkin Donuts and dueling mattress stores.
read more +