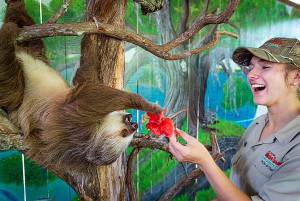 St. Augustine's newest residents fit perfectly into our laid back, coastal lifestyle. In fact, they sleep up to 20 hours a day and spend most of their time lounging in trees at their new home in the St. Augustine Alligator Farm Zoological Park.
Meet Teddy and Grizzly, two mature sloths who moved to the Alligator Farm this summer and made their debut to visitors last week.
The male and female Hoffman's Two-Toed Sloths were brought to St. Augustine from Busch Gardens in Tampa and spent much of the summer in quarantine to ensure their safe acclimation to their new home. Their Alligator Farm rainforest habitat, which was built just for Teddy and Grizzly, mimics their native environment in Central and South America.
But don't expect a spectacle on par with the park's alligator feedings and wildlife shows. Sloths, named for their slow movements and low metabolism, are nocturnal and will likely be sleeping during your visit! Nevertheless, they are easily visible in their new habitat.
read more +