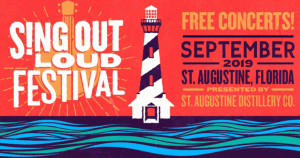 St. Augustine's 4th annual Sing Out Loud Festival is kicking off this weekend at venues throughout the historic district and organizers are expecting the biggest crowds ever! Concerts are planned for each weekend from Friday, September 6 through Sunday, September 29.
The event will feature an impressively orchestrated 334 bands including headliner Kacey Musgraves as well as local poets and comedians. In total, fans will be treated to more than 500 artists.
No matter your musical tastes, the festival has shows for you including indie rock, Americana, blues, hip-hop and R&B, bluegrass, punk rock, jazz and comedy.
Almost all of the festival's shows are free to attend—a rarity when it comes to great concerts—and require no tickets. The only show to charge admission is the (sold out) finale with Grammy Award-winning country music star Kacey Musgraves on September 21.
Here are just some of the featured performances each weekend. Except for the first show below, all featured shows will be at The Backyard at The St. Augustine Amphitheatre. See a full schedule at https://www.singoutloudfestival.com/schedule/.
Friday, Sept. 6 (starting at 6 p.m.)–Headliner: Dave Hause & The Mermaid, Guests: Christina Wagner, Raye Zaragoza, The Attack (Venue: Colonial Oak Music Park)
Saturday, Sept. 7 (starting at 7:45 p.m.) – Headliner: Kurt Vile and the Violators, Guest: Reels
Sunday, Sept. 8 (starting at 6 p.m.) – Headliner: Jenny Lewis, Guests: The Watson Twins, Lucie Silvas
Friday, Sept. 13 (starting at 5:30 p.m.) – Headliner: Propagandhi, Guests:The Coathangers, Debt Neglector, GILT
Saturday, Sept. 14 (starting at 5:30 p.m.) – Headliner: Hot Water Music, Guests: The Menzingers, Subhumans, Kid You Not
Sunday, Sept. 15 (starting at 5:30 p.m.) – Headliner: St. Paul & The Broken Bones, Guests: Dirty Dozen Brass Band, Aaron Lee Tasjan
Friday, Sept. 20 (starting at 7 p.m.) – Headliner: GZA, Guests:Willie Evans Jr., L.O.V.E. Culture, DJ 3 Clops I and Friends
Sunday, Sept. 22 (starting at 6:30 p.m.) – Headliner: The Growlers, Guest: Phosphorescent
Friday, Sept. 27 (starting at 8 p.m.) – Headline: Shovels & Rope, Guest: Lilly Hiatt
Sunday, Sept. 29 (starting at 7 p.m.) – Headliner: Son Volt, Guest: Early James & The Latest
The festival is facilitated by the St. Johns County Cultural Events Division and is sponsored by St. Augustine Distillery Co. Find more information about the shows and featured performers at SingOutLoudFestival.comor like SingOutLoudSJC on Facebook.