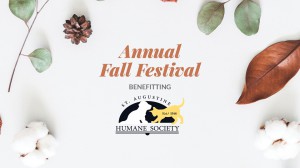 It's finally autumn in Northeast Florida and that means two things: Everything is pumpkin spice flavored and it's time for fall festivals!
Everyone is invited to the Markland community this Saturday, November 9, for the Annual Fall Festival at Markland! Markland residents, families, friends and anyone seeking autumn time fun is welcome to attend the free event, which lasts from 10 a.m. to 3 p.m.
Enjoy crafts, face painting, carnival games, a balloon artist, bounce houses and slides, food trucks, live music, local vendors and much more. Also participate in the charity silent auction!
All proceeds from the auction and 100% of the booth vendor fees will benefit St. Augustine Humane Society. Boxes will be posted on-site where you can also bring donations like dog and cat food, pet treats, cleaning supplies, towels, crates or laundry detergent (full list of needed supplies here).
In addition to providing much needed services to our local animals, the non-profit is now raising funds to add a new surgical wing through its Raise the Woof campaign. They need about $34,000 to reach the $270,000 goal.
Learn more about Raise the Woof and donate here or help by attending the Fall Festival! Check out the Facebook event page here.
Markland is located at 2001 International Golf Parkway on the east side of I95. See you there!