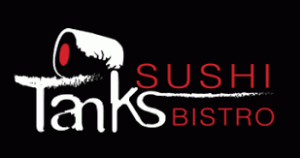 If you haven't tried Tank's Sushi Bistro because you think it is just like any other strip center sushi restaurant–or you don't like sushi—it is time to take another look!
The menu goes far beyond raw fish to include a huge variety of appetizers, hibachi entrees, fried rice and soups. At a recent dinner visit, one person in our party ordered the Hibachi Scallops, and upon trying it, I can say it was fantastic. The scallops and vegetables were perfectly cooked, and the portion was enough for two meals!
For sushi lovers, the classics as well as unique creations are available from the sushi bar. They clearly use fresh, high quality ingredients as all of the sushi we ordered was outstanding.
Try the Tomo Roll (as beautiful as it is delicious), Tuna King Roll or the Murabella Roll (with shrimp tempura). My personal fave is the Angry Dragon Roll (with spicy tuna and shrimp tempura). If you like fried rolls, try the Hwy 16 Roll (deep fried with smoked salmon) or the classic Dynamite Roll.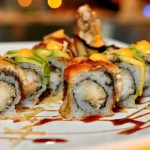 If you can't decide on which sushi to order, select from one of several Sushi Bar platters like the Double My Passion (Sushi & Sashimi Combo with 8 pieces of assorted sushi and 9 pieces of assorted sashimi and rainbow roll). We did not order a platter during our meal, but a few other tables did, and each platter was certainly a head-turner! They were huge and looked like beautiful works of art!
Open for lunch and dinner, Tank's is great for a delicious afternoon meal as well. They offer lunch specials for sushi and hibachi. The Sushi Lunch includes a choice of six assorted sushi and a California roll with soup and ginger salad for $10.95.
When asked by St. Augustine Record what he would recommend to a first-time patron, Chef Ge "Tank" Tang said, "I would suggest a cup of miso soup and a mild sushi roll such as crab meat with cucumbers. With your meal, I'd recommend one of our imported sakes. The bistro has a dessert menu and green tea ice cream-is a good place to start."
The service was also friendly and attentive. The only downside: Tank's is small and cozy, and it fills up quickly. So it's recommended to call ahead to make a reservation if you plan to go for dinner on Friday or Saturday.
On Trip Advisor, Tank's is ranked #3 out of all sushi restaurants in St. Augustine. In fact, the restaurant is so popular, a Tank's Sushi Bistro is set to open in Nocatee this spring at 151 Pine Lake Drive.
Tank's Sushi Bistro is located in Murabella Crossing at 46 Tuscan Way Suite 303 (near the intersection of State Road 16 and Pacetti Road). Hours are Monday through Saturday 11 a.m. to 10 p.m. and Sunday 12 p.m. to 10 p.m. You can also order online for pick-up.