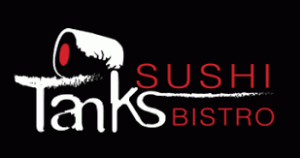 If you haven't tried Tank's Sushi Bistro because you think it is just like any other strip center sushi restaurant–or you don't like sushi—it is time to take another look!
The menu goes far beyond raw fish to include a huge variety of appetizers, hibachi entrees, fried rice and soups. At a recent dinner visit, one person in our party ordered the Hibachi Scallops, and upon trying it, I can say it was fantastic. The scallops and vegetables were perfectly cooked, and the portion was enough for two meals!
For sushi lovers, the classics as well as unique creations are available from the sushi bar. They clearly use fresh, high quality ingredients as all of the sushi we ordered was outstanding.
Try the Tomo Roll (as beautiful as it is delicious), Tuna King Roll or the Murabella Roll (with shrimp tempura). My personal fave is the Angry Dragon Roll (with spicy tuna and shrimp tempura). If you like fried rolls, try the Hwy 16 Roll (deep fried with smoked salmon) or the classic Dynamite Roll.
read more +