Every spring for the past 37 years, historic St. Augustine has stood astheplace for great seafood, live music, and good times. This year, the tradition continues with the 38th St. Augustine Lions Seafood Festival! It all goes down this weekend, March 22 to 24, at Francis Field.
Presented by Lions Club International, the festival is a staple for locals and tourists seeking games and rides, shopping, music and, of course, delicious local seafood. Dozens of seafood vendors will be present offering fish, crab, shrimp, mussels, calamari, and more, prepared in a wide range of cooking styles. For land lovers, vendors will also be selling Italian, Asian, and fair-style foods.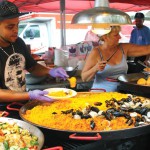 An Arts & Crafts Village will include more than 100 vendors selling handcrafted items such as housewares, pottery, artwork, and accessories.
read more +