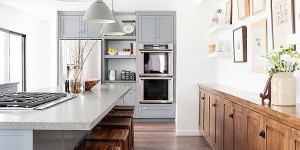 When making improvements to your home, it can be easy to get overwhelmed by the sheer number of manufacturers and products. Knowing which brand to trust can be difficult, especially when you're not familiar with many of them.
To help, BUILDER Brand just released its 2020 Build Brand Use Study. Conducted by The Farnsworth Group, the annual survey gauges the attitudes of nearly 1,000 builders, developers and contractors all over the U.S. (both public and private).
From vinyl siding to light fixtures, the report covers nearly every corner of home improvement in more than 50 categories. Brands are included based mainly on familiarity, frequency of use and quality. Respondents also factored in performance, price, availability, warranty, green/sustainability and brand reputation.
While many brands continue to dominate (e.g. Trex is the decided choice in decking), other lesser known brands pop up in the survey as well, thanks to respondents who voiced their willingness to try new products and brands. This helps to provide well-rounded survey results.
Whether you are upgrading your home to sell, investing in a house to flip, or renovating your forever home, it's important to choose high quality, trusted brands. Here are just some of the results from the survey, which may help you to narrow down product selections in your home improvement project!
Faucets                     
Brand Familiarity: American Standard
Used in the Past 2 Years: Kohler / Moen
Used the Most: Moen
Highest Quality: Kohler
read more +