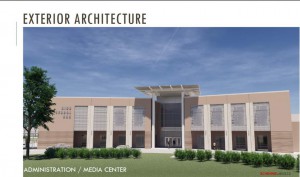 The St. Johns County School District will host two town hall meetings next week to explore the possibilities for changes to attendance zoning regarding the planned high school, for now known as "High School HHH." The public is encouraged to attend.
High School HHH is expected to open in time for the 2021-2022 school year. According to WJCT, "It will be built at 11200 St. Johns Parkway at the intersection with International Golf Parkway."
The new proposed zoning plan will be shared at the town hall meetings, and attendees will have a chance to comment directly to School Board members and district staff. They will also discuss plans for a future "High School III" and possible attendance zoning changes related to SilverLeaf.
The following schools will be impacted by the proposal: Allen D. Nease High School, Bartram Trail High School, Creekside High School, Liberty Pines Academy, Mill Creek Academy, Pacetti Bay Middle School and Switzerland Point Middle School.
Here are the details on each meeting (the same info will be presented at both meetings):
Tuesday, February 25at 6:30 p.m. at Nease High School (10550 Ray Road)
Thursday, February 27at 6:30 p.m. at Bartram Trail High School (7399 Longleaf Pine Parkway)