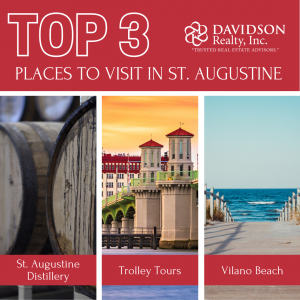 Are you noticing things around St. Augustine seem to be slowly getting back to normal? While the pandemic and precautions are still part of our everyday lives, an overwhelming majority of St. Johns County students are back in school and for most of us that looks like a slight return to normalcy, bus routes in the morning and afternoon, and fewer crowds in our favorite spots. Let's get out in our great city and safely enjoy the best that St. Augustine has to offer. Grab your bags Moms, Dads, Grandparents, and empty nesters! It's time to act like a tourist and hit Davidson Realty's Top 3 Places to Visit in St. Augustine! While it was very difficult for us to narrow it down to just three, our Davidson Realty team focused on a few that aren't often found on everyone's list like Leisure Group Travel Magazine and U.S. News & Travel.
St. Augustine Distillery 
As Americans seemed to experience the great hunt for toilet paper and hand sanitizer, one local St. Augustine company stepped up in a big way to help with the shortage of hand sanitizer across the First Coast. The St. Augustine Distillery is located in the historic district of St. Augustine in an old ice plant. Known for their vodka, rum, gin, and whiskey, you can find their labels on the shelves of local liquor stores. But you can also take a free tour of the distillery while also enjoying a sampling of their spirits. The St. Augustine Distillery is operating under CDC guidelines and accommodating tours every 30 minutes with no reservations but on a first-come-first-serve basis. Open Monday through Friday from 10 am until 6 pm, St. Augustine Distillery is a place we highly recommend touring and enjoying a cocktail.
Trolley Tours
With a couple to choose from (and we don't want to single either one out) we highly encourage you to hop aboard one of the trolley tours in this historic St. Augustine area. Even in the hottest of temperatures, the movement along the bank and through the streets of downtown provides a breeze and a little bit of relaxation as you get a St. Augustine History 101 tour and learn about Ponce de Leon and the early settlers. The Trolley Tours are also a great way to navigate some ideal and popular dining spots. Hop on and hop off as you view the beautiful buildings, experience the historic charm, and enjoy the ride.
Vilano Beach
With so many beautiful choices of sandy beaches in St. Johns County, our Davidson Realty team selected Vilano Beach as one of our favorite places to visit. It's important to know the history of Vilano Beach to fully appreciate why it's one of our favorites. The prestige of this beautiful stretch of shoreline dates back to the late 1800s when Henry Flagler would host his millionaire friends at Vilano Beach. A quaint little beach village, Vilano offers some of the area's most charming restaurants, shopping, and plenty of rentals to enjoy a "staycation" in your own backyard. Vilano Beach offers a casual, laid back atmosphere, beautiful natural surroundings, and some of the best sunset views. Pack up the car because Vilano Beach also allows four-wheel drive vehicles on the beach making it so convenient to spend a day on the sand.
With so many options to choose from that include the Castillo de San Marcos, the Lightner Museum, the St. Augustine Lighthouse and so much more, sometimes it's fun to tour the road less traveled. We encourage you to tour our Top 3 Places to Visit in St. Augustine, maybe for the first time but likely for a repeat visit, and let us know what you think!