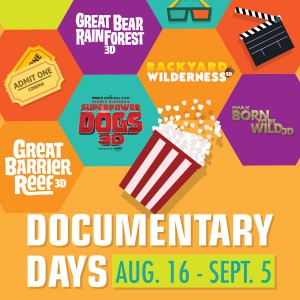 Now that school is back in session, IMAX is offering the chance to extend learning beyond the classroom! Documentary Days at the World Golf Hall of Fame IMAX Theater will kick off tomorrow, Friday, August 16 and run through Thursday, September 5.
To kick off the annual series, IMAX will introduce two new documentaries: Backyard Wilderness 3D and Superpower Dogs 3D.
On Saturday, August 17, S.A.F.E. Pet Rescue of St. Augustine will be on site at the IMAX for a special dog adoption event to help kick off Superpower Dogs 3D!
Other not-to-miss documentaries include Great Bear Rainforest, Great Barrier Reef, Pandas, Amazing Mighty Micro Monsters, Dream Big: Engineering Our World, Extreme Weather, Hubble, We the People, Lewis & Clark, Under the Sea, Born to be Wild, and Flight of the Butterflies!
read more +