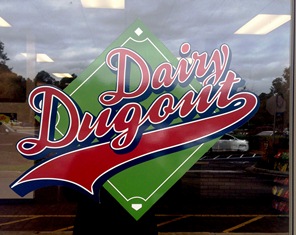 Delicious ice cream and game day munchies are here! Dairy Dugout recently opened in World Golf Village's West Town Place Plaza (next to Cino's) and our WGV residents couldn't be more excited for their weekly lunch specials and ice cream galore! I recently stopped by Dairy Dugout for a sweet treat and was very pleased with my vanilla and chocolate swirl 'Chang Up' loaded with Reese's Cups and Snickers.
Dairy Dugout is a great place to stop in for lunch or an afternoon snack. It's especially popular with families and ideal as a post-game stop to reward a team…or console your lil' athletes after a tough game. They offer hot dogs, cheese dogs, sandwiches, nachos, sliders, and more. Their treats include shakes, 'Change Ups' (which are similar to Dairy Queen's Blizzards), sundaes, banana splits, ice cream nachos, root beer floats, ice cream sandwiches, and ice cream bars. Of course they have all the toppings you could want!
Dairy Dugout is open Monday, Wednesday and Thursday from 11 am – 9 pm and Friday and Saturday from 11 am – 10 pm. They are open on Sunday from noon – 9 pm and closed on Tuesdays.
Make sure you stop by Dairy Dugout to grab a cone and support local businesses!