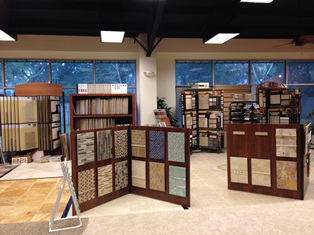 Now that we've gotten to know the team behind Riverside Homes and taken a look at their stand-out construction process, it's time to visit the design team at Interior Design Solutions (IDS) to understand Riverside Homes' design process. Davidson Realty President Sherry Davidson and I joined Cindy with Riverside Homes and Jodi with IDS to explore the incredible options offered to Riverside Homes' customers.
At this stage in Riverside Homes' construction process, it's time for soon-to-be-homeowners to select their design features for their new home. IDS is a by-appointment-only design center so that the interior designer can focus solely on your needs and cater the process and times to you. The design center is conveniently located off 1-95 and JTB at 6930 Bonneval Road.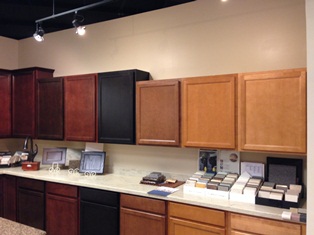 Cindy explains that many people are intimidated by the design process, but the process is seamless with the professional design team at IDS to help you through each step of creating your dream home. When you meet with your interior designer, they will already have your floor plans laid out and all the information ready to go to start the fun designing process. The designer will show you samples of everything, so you are able to visualize the look and feel of your new home. Jodi recommends beginning to think about your likes and dislikes before your appointment at IDS. She suggests thinking about what you will be bringing with you to the new home and what you will be throwing out. The Riverside Homes' model in Durbin Crossing is a great resource for design inspiration as well as looking online.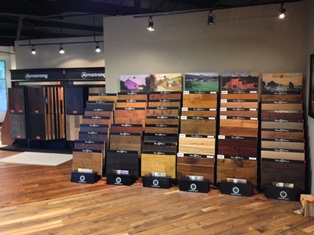 From there, the designer will walk you through all the rooms of the design center to see the immense variety of options from cabinet colors, flooring products, shower details, shelving, countertops and embellishments. The great news is their system is flawless and you never feel overwhelmed! In the cabinet area, you will browse selections for your kitchen options, including hardware, countertop and cabinetry choices. The designer will show you all the different features available like extra crown molding, a roll-out trash can, or beautiful backsplash tile made of stone above your stove. You decide what works for you with the help and guidance of the professionals!
In the tile section, Jodi describes all the flooring options available for your kitchen, bathrooms, foyer, etc. The designer will pull all your samples together of what you've chosen so far to see if you still like them, dislike them or want to add an accent. It's as easy as 1,2,3.
For more information on Riverside Homes, please contact one of our Davidson Realty agents at (904) 940-5000 or stop by Davidson Realty at 100 East Town Place, St. Augustine, FL 32092. Make sure to stop by and see Cindy at Riverside Homes' model in Durbin Crossing!