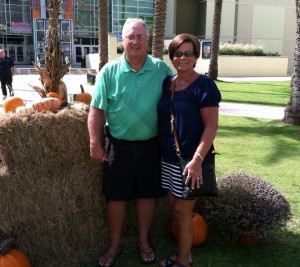 For Rickey and Marsha Johnson, moving to World Golf Village was destiny in a way. After raising their two children and travelling all over the country in their RV, the Alabama natives found the First Coast had already become home to something very special – their growing family. They knew this was the place for them.
We recently caught up with Marsha to learn more about the Johnsons and their story.
Where are you from originally and what brought you to WGV? My husband and I lived in Gadsden, Alabama (northeast of Birmingham) all of our lives until May of 2014. Our two children, after leaving for college, never returned back to our hometown. So, once we had cared for our own parents and God had taken them home, we decided to sell everything, buy a 45-foot Motor Coach and travel. We had always had a dream to do this and see the beautiful USA.
At this time, our children were married, they had or were having our grandchildren and we wanted to be mobile as well to go back and forth to see them. One was in Charlotte, North Carolina and one in Woodstock, Georgia.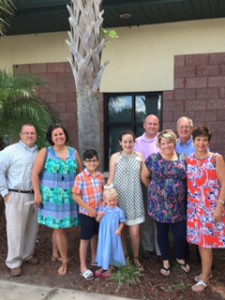 In June of 2014, our daughter and family were suddenly moved to Jacksonville for our son-in-law's work, and they settled in the WGV area. In October of 2014, our daughter-in-law was transferred with Swoozies… to JACKSONVILLE, FLORIDA!! They relocated here to the Bartram Springs area. Who would have ever guessed this would happen!?
We continued our quest to see the USA (traveling about 20,000 miles over a 3-year period). In May of this year, we decided it was time to settle down, so we sold the Motor Coach and looked for a condo near our children.
What made you choose The Legends as your new home? The Legends was top on our list. We loved the location, how well kept it was and it offered options of layouts. My husband wanted a garage and we wanted a ground floor unit. The first day our Realtor Suzy Evans (who is THE BEST) showed us our unit, I knew this was the one for us. Negotiations began and we were moving in by the end of June.
What do you like best about living in World Golf Village? We love it here! It has two very nice pools, which we enjoy, and it is quiet and we feel very secure. We are anxious to meet more of our neighbors but the ones we have met so far have been so kind. Not having to do any yard work or outside maintenance is GREAT! It has been fun to decorate our unit with a beach theme and just sit back and enjoy!
Tell us a bit about your professional background. My husband worked for Goodyear Tire & Rubber for 41 years, and I was a director of a preschool ministry at our church for over 25 years as well as a full-time mom.
What do you like to do in your free time? We do love the beach! As a family we have always made beach trips every year. We did go to the Gulf side but we love the Atlantic, too. I say, "A beach is a beach!" Not only have we enjoyed the beaches here, we love exploring all the wonderful springs, parks, islands, etc. that are so close. Of course, you can always learn something new whenever you go into St. Augustine. So much history! We love it there! Not only is the history great, so are the restaurants! We love trying all of them out as seafood is awesome here.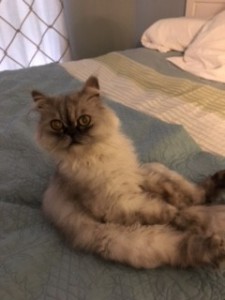 Tell us a little about your family. Our family includes Rickey, me, daughter Julie (a great 5th grade teacher at Wards Creek Elementary), her husband Jeff (who works for Nationwide Insurance), our first granddaughter Kaitlyn Marie (a sophomore at Bartrum Trails HS), our first grandson Hunter (a 5th grader at Wards Creek), our son Philip (who works for Florida Family Insurance), his sweet wife Catherine (who is manager of Swoozies in the Town Center), granddaughter Addyson Marie and grandson Matthew Philip, who is due to be born the first of October!!
And last but not least, our spoiled rotten Teacup Persian cat Louie Figaro! Oh to have his life!
Which person in history would you most like to meet and why? My husband, who is more of a historian, says he would most like to meet Abraham Lincoln because he started from nothing, educated himself to become a lawyer and then became one of the most admired presidents in US history. He led our country through one of the most devastating times. How he did it was amazing.
What is one thing most people don't know about you? One thing we would hope people would learn about us is that we love the Lord. Our faith brought us together and has held us through 42 years of marriage. Turning Point at Calvary is our new church home.
Welcome to World Golf Village, Rickey and Marsha!