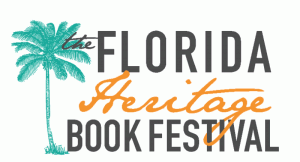 Calling all literature enthusiasts: The 2018 Florida Heritage Book Festival is coming to St. Augustine on Saturday, September 15! The free festival is from 9 a.m. to 4 p.m. at Flagler College's Ringhaver Student Center. Attendees can sit in on presentations by locally-renowned authors and visit a book marketplace and author signings.
A free shuttle will run from the Visitor Information Center on Castillo Drive to the festival from 8:30 a.m. to 5:30 p.m.
Attendees will enjoy author panel discussions as well as scheduled talks and readings by numerous writers like Cathy Salustri, Judy Lindquist, Karen Harvey,  Mark Woods, Laura Lee Smith, Ben Montgomery, Larry Loftis, Bruce Horovitz, Jeff Klinkenberg, Sylvia Whitman, Andre Frattino, Richard Wickliffe, Sharon Scholl, Ann Browning Masters, Robert Macomber, Ashley Lear, Daniel Schafer, James O. Born and Julie Hauserman.
Key among the list of featured authors is the 2018 Literary Legend Tim Dorsey. He has published 20 novels including "Florida Roadkill," "Clownfish Blues" and most recently, "The Pope of Palm Beach." Tim will be honored with his award on September 14 at the Literary Legend Reception at the Renaissance World Golf Village.
To accompany the festival, aspiring authors are invited to attend the Writer's Conferenceat the Renaissance World Golf Village on September 13 and 14. The two-day conference will include workshops and presentations to help writers through the novel-planning process. To learn about the Writer's Conference, visit fhbookfest.com/writers-conference.
For a full schedule of presentations at the September 15 festival, visit fhbookfest.com/.