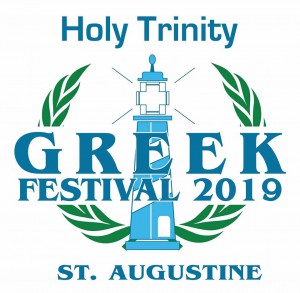 St. Augustine is well known for its cultural celebrations, and none are as highly anticipated as the annual St. Augustine Greek Festival!
Running this weekend (October 11-13) at Francis Field, the event will feature all things Greek from authentic food and product vendors to live music and performances by dance troupes. A kid's zone will also be set up with games and bounce houses.
Interested in learning popular Greek dances like Sirtaki, Hasapiko, Kalamatiano and Tsamiko—or just learning what they mean? Dance lessons will be hosted by dancers from Holy Trinity Greek Orthodox Church in St. Augustine. Lessons are open to everyone and will be held between performances at the following times:
Friday – 6:15 p.m., 8:30 p.m.
Saturday – 12:15 p.m., 3:45 p.m., 5:15 p.m., 8:00 p.m.
Sunday – 1:45 p.m., 3:30 p.m.
Best of all, local traditional Greek food will be available. Come and enjoy Spanakopita, Gyros, Tiropites (Greek cheese pies), Baklava and much more! The Taverna will be serving imported Greek beers and wines.
read more +