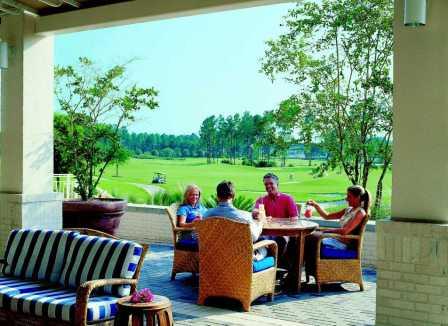 Whether you're visiting World Golf Village, a neighbor looking for a good meal or hungry after a day of golf on the Slammer & Squire or King & Bear golf courses, the Legends Bar & Grill is the perfect spot for great food.  Located in the Slammer and Squire clubhouse, the Legends Bar and Grill is a beautiful restaurant facing the 9th green with a welcoming Floridian atmosphere.
The Legends Bar and Grill is open to the public, and the second you walk in the front door you are greeted by a couple of golf's greatest players. Memorabilia from the renowned design consultants of the golf course, Sam "The Slammer" Snead and Gene "The Squire" Sarazen, line the hallway up to the restaurant. Classic photos and golf clubs are on display for visitors to view and reminisce about the amazing careers these two gentlemen had.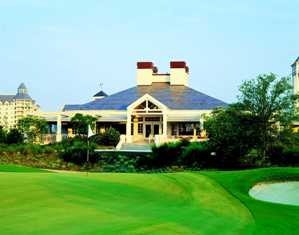 In addition to the inviting dining room, the restaurant's outside patio has one of the nicest views in all of World Golf Village and with the comfortable furniture and amazing food, you can dine in complete relaxation.  The wait staff is friendly, prompt and attentive to every customers needs. Open daily from 6:30 -3:00, the Legends Bar and Grill serves their full menu, including breakfast all day long. There is a menu with select items that is available till about 5:30 or 6:00 for the later crowds.
With a menu that ranges from breakfast to burgers there truly is something on the menu for everyone to enjoy. With a newly hired head chef, The Legends Bar & Grill has been updating their menu with some tasty new dishes along with their old favorites.
One of my favorite things about Legends is that you can enjoy breakfast any time of the day and I highly suggest the Breakfast Burrito! Jam packed with all the breakfast favorites, it is a great way to start off your morning or enjoy for lunch. Looking for something a little different?  Try the pot stickers which are served with an incredible Thai Chili sauce.  If you're really famished, go for the King Melt, a roast beef sandwich served with mushrooms, onions and cheese. The Legends Bar & Grill has a full bar with multiple beers on tap – a nice cold beer from Mile Marker Brewery, a local beer brewed right down the road, is a must try.
So if you're a "local", just passing by or wrapping up a fun round of 18 holes, the Legends Bar & Grill will welcome you with open arms so you can relax, eat, and enjoy the beautiful World Golf Village.